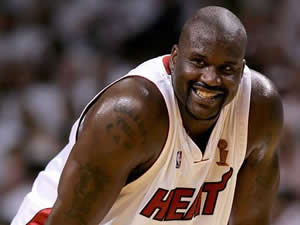 Shaquille O'Neal was known as one of the largest players to ever play in the NBA, and this basketball phenom has been very aggressive about getting himself in front of a camera in a lot of other things after he retired from basketball.
Now he's getting in on the casino industry with a pair of games inspired by the giant player himself on MGM Resorts' myVEGAS social casino app.
The first new title is CaddyShaq which is obviously a play on words for the classic movie Caddyshack. You'll be playing at the "Shaqusta" Country Club, and you're going to be up against Bucky the Gopher just like in the movie. This is a fun slot that gives players golf-based bonus features, and if you're in the mood for something light-hearted and hilarious as you see Shaq out on the green in funny situations, then you'll be a fan of this game. What's so awesome about this title is that there are so many tie-ins to the movie Caddyshack.
The second Shaq-inspired title for myVEGAS is ShaqJack, a variation of blackjack that uses a lot of basketball references. This game includes a completely different theme that's based largely around basketball, and this includes a different felt, thematic cards and more. The rule set is fairly easy to learn how to play, and it only requires some small changes from normal basic strategy if you want to play particularly well. With that having been said, you might want to take a few practice rounds before you get serious because the atypical layout might throw some players off of their game a little.
When you play with myVEGAS, you're able to run up points on the Internet, but then you can turn around and redeem these points for awesome prizes. Right now, you can win special CaddyShaq t-shirts that have been autographed by the big man himself. Basketball jerseys are also available as well as tickets to a Sacramento Kings NBA game. One of the cooler prizes is a chance to have a one-on-one game with Shaq at his own court. Get in on the action with these cool new Shaq-inspired games and you could end up courtside for a great game.