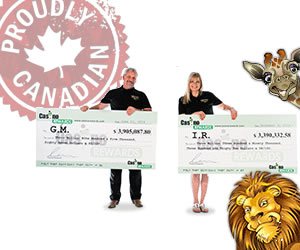 Players who are serious about trying to nail a life-changing sum of money know that Mega Moolah by Microgaming is their game of choice.
Every online casino software company has a handful of titles that really help to define what that brand is all about. With industry juggernaut Microgaming, one of those titles is definitely Mega Moolah. This is their most popular progressive slot for a reason, and even though the top jackpot starts off at the $1 million mark, it usually hits in the range of $3 to $4 million which is definitely a life-changing sum that would likely mean you'd never have to work (or deposit) ever again. This jackpot is due to hit any time now because it's in the range where it hits the most often, so it's the perfect time to play.
Mega Moolah has made a lot of millionaires in the time it's been around. One of the more recent winners, and one of the more interesting stories, is the player I.R. who picked up $3.4 million playing via mobile. What's so interesting about this win is that she didn't realize she had won right off the bat because she sat her phone down to go to the bathroom. When she came back, she saw that the result of her previous spin was an overwhelming $3.4 million. That's a welcome surprise for anyone.
The African safari theme of Mega Moolah is the setting for one of the highest-volatility games that you'll find anywhere. The volatility is so high because this game is all about going big or going home. On top of four different progressive jackpots (Mini, Minor, Major and Mega), it has a 15,000x static jackpot as its top payout on the normal game. Golden Tiger Casino and Luxury Casino are a few recommended choices for Canadian players who want to get in on the action with this game.
One thing that makes the progressive stand out is that it's randomly awarded at the end of your spin instead of requiring you to line up a certain winning combination. This is likely why I.R. mentioned above initially missed her jackpot win since she probably saw the first few reels stop with no symbols lining up and set her phone down for a moment before the spin had completed.