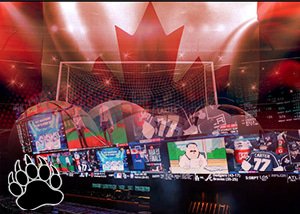 Betting on single-event sports like ice hockey and football is about to become completely legal in Canada with provinces ready to pounce on the upcoming federal law change.
The Senate has finally approved Bill C-218. This is essentially a private member's bill amending Criminal Code provisions surrounding gambling on single-event sports. Placing bets on single-event sports is currently illegal in Canada except for horse racing. However, the bill can win back customers that are placing bets at offshore sites, including bookmakers and online casinos.
On 22 June 2021, the upper chamber approved Bill C-218 by a 57-20 vote margin. The final step for the bill to become law is royal assent. Kevin Waugh, the Conservative MP, garnered renewed enthusiasm for the bill from legislators in all 4 main parties, marking the third time a bill like this has been passed through Parliament. However, it's never made it this far before. Can this finally bring in a new age of online sports betting in Canada?
Previous Attempts to Legalize Single-Event Sports Betting
Similar legislation has blazed a trail through the House of Commons with support from all parties almost a decade ago. However, the attempt was stopped in the Senate and died after an election was called during 2015. Another attempt was made by Brain Masse, the New Democrat MP, but also failed to materialize after the then Liberal-majority voted against his private member's bill during 2016.
The Liberals then decided to take another shot with their own legislation last November, which they subsequently dropped after Waugh decided to incorporate it's protections for the horse racing industry within his own bill. In February, the bill passed the House thanks to multi-party support. The bill has been embraced by the National Hockey League and the Canadian Football League as well as other professional sports.
The bill has also garnered preliminary support from a closely integrated equestrian community that remains cautious of foreign gambling sites invading on it's turf. David Wells, the Conservative Senator who sponsored the bill in the upper house, has predicted that legalizing single-event sports betting would dismantle the multibillion-dollar black market and eventually redirect the revenue into the pockets of provincial governments.
Wells recently informed the Senate that Canadians are currently placing billions of dollars worth of wagers through offshore sites on an annual basis and go entirely unregulated in the Great White North. Provincial governments who regulate Canadian gambling have been demanding the legalization of single-event sports betting for a long time. The billions in revenue could easily be used to support education, health care, addiction research, and other priorities in the country.
Canadian Provinces are Ready to Seize on Revenue Streams
A spokesman for British Columbia's Public Safety Ministry, Travis Paterson, stated that the British Columbia Lottery Corporation is more than ready to allow single-event betting in the online gambling industry when it's passed thanks to the PlayNow.com website. Doug Downey, the Ontario Attorney General, stated in an interview that the province already has plans to build a framework by the fall and can implement new licensing rules and regulations before year end.
Changes to allow placing bets on a single-event between the Toronto Maple Leafs and B.C Lions, regardless of how long the odds are, will need regulatory tweaks on a provincial level. However, no legislative amendments will be made which will ease the path for single-event sports betting. Over 24 States in America have moved to the legalization of single-event sports betting following the federal ban in 2018 made by the U.S Supreme Court, potentially siphoning off players from casinos in Ontario, including Niagara Falls and Windsor.
Waugh stated that the primary objective of Bill C-218 is to level the playing field against offshore gambling sites like Bodog and Bet365 that accumulate over $4 billion from bettors in Canada every year. Online casinos could also benefit from the bill, but Ontario and British Columbia state that single-event sports betting won't be restricted to the casino floor.
The CFL stated that the bill's clearance will move sports betting out of the shadows and into the much-needed light where it belongs. A popular betting app in North America, known as The Score, rates the online gaming market in Canada between $4.3 and $5.4 billion in revenue on an annual basis. Canadian gamblers will be more enthusiastic to place bets on individual sports as opposed to parlay betting where the bets are placed on fixed odds.
Not Everyone is Onboard
Over 20 senators voted for additional amendments but failed to pass in the last week. The changes that were proposed would have sent the bill back to the House of Commons which could have cemented its defeat as the MPs are preparing for their summer break. Returning in autumn is also in serious doubt due to a likely election on the horizon.
The initial goal of the federal ban on single-event sports betting was to restrict match fixing. However, it become ineffective with the rise in popularity of offshore gambling sites. The risk of manipulation remains at lower levels, including minor league baseball or hockey where players tend to earn far less when compared to other major league counterparts. This makes it more viral to recover gambling from the black market.
The Kahnawake Mohawk Council also requested tweaks to be made to allow indigenous entities to control a lottery scheme. However, the amendment was defeated last week by a 43-21 vote.