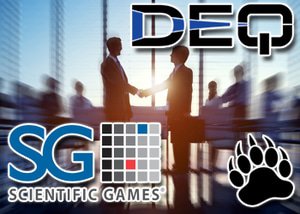 Gaming technology provider, Scientific Games, has struck a deal to acquire Canadian rival DEQ systems.
Last week, Scientific Games online casino software provider announced that it had entered into an agreement to acquire DEQ for C$0.38 per share. This deal requires the support of 2/3 of DEQ shareholders and a special meeting of the DEQ shareholders will take place in late October or early November. If supported, the deal is expected to close in the final quarter of 2016 or the first quarter of 2017.
The deal is also subject to the receipt of gaming approvals in certain jurisdictions and other customary closing conditions.
This deal values DEQ at around C$27.2 million. In the 12-month period ending May 31, DEQ reported revenue of C$9.5 million.
DEQ has a presence in over 30 countries through their market-leading EZ baccarat product. This product boasts nearly 800 table games across 150 casinos. DEQ earns the bulk of its revenues in the US and Canada, but it also has a presence in Panama and Asia.
According to DEQ CEO Joseph Bertolone, the deal is "a very good transaction" for his company and he is looking forward to working with Scientific Games to ensure a smooth transition.
Roger Snow, Scientific Games senior VP of Table & Utility Products, said his casino software company was eager to gain access to DEQ's library of table games, table progressives, and random bonusing systems. He also said, "The DEQ team has grown a fantastic business focused on providing revenue-generating and entertaining solutions for casino operators around the world. Their established and high-performing library of table games, table progressives, and random bonusing systems will enhance our offerings, add to our recurring revenue base, and provide even more ways for casinos to engage players through Scientific Games' extensive end-to-end casino portfolio of gaming machines, casino systems, table products, and interactive solutions."
How this relates to online gaming stocks will be seen down the road and those with an interest in this are should consider reading more on this area of