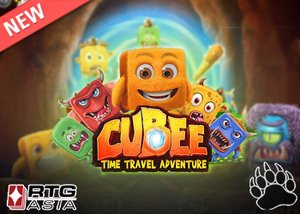 Go on a thrilling expedition through time with RTG's new Cubee: The Time Travel Adventure slot.
Join Cubee, as he leaps through time warps and passes through the Stone Age to the Era of Pirates to the Viking Age. During your voyages in new Cubee: The Time Travel Adventure slot, you will become more powerful - collecting lucrative rewards while overpowering the evil enemies. Then you will head off back to Cubeeland, where all the free games you have collected during your voyage will await you, along with a few generous surprises as well!
New Cubee: The Time Travel Adventure slot features
New Cubee slot is the most recent slot created by RTG online casino software. This online gaming machine offers exceptional features and takes you on a trip through space and time and generates a virtual world that is intriguing and immersive. Unlike other conventional slot games, new slot Cubee features with no reels and paylines. Each spin you make will produce symbols soaring out from a time vortex that will lend you a hand to develop the energy level of Cubee.
Emerging on the screen, players will discover various symbols that represent Cubee's enemies as well as several energy balls. Any grouping of three to eight symbols comprising defeated rivals or energy balls will generate a payout. Furthermore, all soaring rivalries that possess a higher power reading than Cubee will not count towards a payment. Rivalries in the game include Spike, Bones, Lucifer and Casper.
Whilst there is no reels and no paylines, the whole board pays out generating a setup more like a fighting adventure game that you would actually be playing on a video gaming console that a slot. However, make no mistake. New Cubee slot is still very much an online slot machine since you can win as much as 50,000 times your total bet, on every paid spin you make. This online game is a perfect choice for low and high rollers since the minimum bet is set at $1 and the maximum bet at $20.
During your gameplay, Cubee will pass through time, defeating his enemies along the way. At the same time, he earns bonus games. What's more, each time a cannon emerges in the Era of Piracy, you can grab a bonus game. In the course of the Viking Age, multipliers can be obtained when the bow and arrow emerge. The multipliers and bonus games will be spent when Cubee arrive at Cubeeland.
Where to Play Cubee: The Time Travel Adventure Slot
New Cubee slot is absolutely a unique game and you can play it at RTG casinos across the globe, including Bodog Casino where an insane adventure awaits you. All new customers will receive a welcome bonus of up to $600 when you make a deposit.