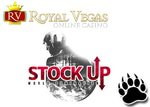 Royal Vegas members are now able to look forward to a promotion unlike any before!
It represents the fundamentals of living large, a promotion that is not only ritzy with flamboyance, an extravagant theme, or creative implementation, but is a huge affair directly in cooperation with Fortune Lounge, which detonates players with staggering rewards.
With its time frame set to extend until the 30th of September, there is only limited time to reach your goal, and the sooner the mission of stocking up is activated, the more participants that stand to gain. Living the high life consists of playing, wagering, and claiming reward points. These points are transformed into stock shares enabling every player to acquire several top companies internationally that will lead to ultimately rule the world. No deposit is required to participate in this online casino promotion.
Play and Earn your Shares
Motivation along the way is offered via numerous cash prizes and your way to domination is filled with additional reaches. The more companies your empire holds, the higher your worth, and the more valuable the bonus rewards become! Plus, the signing bonuses rise significantly in value. It's a way of living that takes participants straight to the action, puts power into play, and offers each player the opportunity to stock up in a powerful round that puts world domination on the map. Once you start experiencing the powerful sensation of climbing up the success ladder...it is impossible to turn back.
September is a month of raising the stakes, and to participate in the stock up promotion, each
Royal Vegas Casino member is invited to play their most enjoyed games or discover new favorites, and all loyalty points earned are then transformed into shares. The shares are your riches and can be used towards acquiring companies across the universe. Several planets are part of the world domination promotion and on each planet. There are five top companies to make your own, with each company that increases, your empire rewards increase, and instant-signing bonuses becomes wealthier.
New Player Promotions
New members can now take advantage of a phenomenal welcome offer that offers 120 free spins and bonuses valued at $1,200, it also enables new players to participate in the stock up - world domination promotion and unlocks a world of entertainment with a library stocked with 308 slots, 61 table games, 16 progressive jackpots, 19 casual games and 32 scratch cards. New games are added all the time and currently three new Microgaming games are highly recommended and include Frozen Diamonds, Karaoke Party and Jungle Jim - El Dorado video slots.