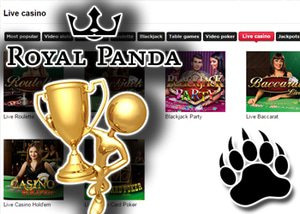 The thrills of the online casino world once again has reached epic proportions as yet another Royal Panda winner has just been confirmed.
Canada based online casino player Haibin, managed to scoop over $65,000 on some of his favorite Royal Panda table games, before finally calling it a day.
What is amazing is that Royal Panda Winner Haibin did not claim his fortune all in one shot. He started his first session on Thursday October 15 and managed to keep a 4 day winning streak going until Sunday October 18 by playing exclusively at their Live casino with real dealers.
Could the dealers have bought him luck? One wonders if it was the same dealers he played against each consecutive day that he possibly got a good vibe from. Maybe on the fifth day they weren't there so then he decided to cash in his chips, the casino won't comment on such speculation, so only he knows.
Haibin amassed his fortune playing Live Blackjack, Live Baccarat and Live Roulette, and had only been a customer for just 2 months. He had reached Silver status as part of the Loyal Panda program that rewards players with points that can be used to redeem electronics and Free Spins on their slot games. However the biggest of rewards was yet to come by following his passion of table games, a four day spell he will surely remember for the rest of his life.
Royal Panda Accustomed To Big Winners On Slots Too!
It's not just table games where lucky punters strike it rich, there was a Royal Panda winner on the slots and not that long ago either. Just a couple of months earlier on August 12 the casino announced a Polish female named Beata lit up the sky with a huge $89,712 win on NetEnt's Wild Rocket slot game.
Different wins come in different ways with different games, and probably with different strategies about how much longer to play and when to eventually stop. No doubt when one looks at having amassed tens of thousands, common sense prevails and after treating oneself to a few unusually high bets, one's happy to walk away and enjoy such a life changing experience. It's something all players look forward to. Let us take our hat off and salute these lucky winners.