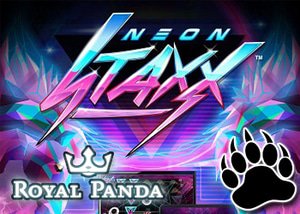 Just like for a movie buff and a new movie, for the serious gamer there is really nothing that quite beats the launch of a new game.
Although new games these days are fairly frequent, little is usually divulged many months ahead of time until they are almost ready to be rolled out. That being the case, Wednesday June 24, is launch day for a brand new offering from Net Entertainment and those wanting to be one of the first to play it, can do so at the Royal Panda Casino special launch!
Free Spins Launch Bonus For All - On Net Ent's New Neon Staxx Slots!
Get ready for an amazing retro style experience at the Royal Panda Casino as the player gets to relive the neon color splendour of the 80's through 3D eyes to the sound of the funky synthesizer backing track, What a totally awesome cool vibe awaits, get ready to be blown away!
The guys at Net Entertainment never seem to stand still when it comes to delivering top quality gaming experiences. They always seem to know exactly what is required to keep the avid slots players chomping at the bit, and just when one is ready for a brand new thrill, magically it appears right in front of the eyes!
Neon Staxx is exactly as its title states. A slots game that's absolutely stacked with neon vibrancy across its 5 reels and 4 rows. There are chances to get massive stacks of symbols on each and every spin and there's Scatters, Free Spins and Wilds, along with an ultimate SuperStaxxâ"¢ feature.
On top of their 100% match bonus on their first deposit up to $100, new players can look forward to 30 FREE spins, whilst existing players can expect a $250 bonus with up to 70 FREE spins.
Any player visiting the Royal Panda casino can take advantage of these super bonuses on Neon Staxx. It doesn't matter if they're a regular or brand new, everyone regardless gets a bite at this brand new cherry. But time is of the essence. The introductory bonus is exactly that and won't be around long. Don't delay, play today. Someone is bound to get off to a lucky flyer, who's it to be?!