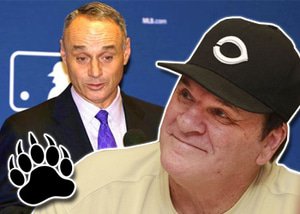 Mercifully it's finally all over for the former MLB star who produced 4256 hits, a lifetime .303 batting average and had 17 All-Star appearances.
"Pete Rose Reinstated" was never destined to become a headline as MLB commissioner Rob Manfred finally decided his fate after 26 years of waiting for Baseball to change its mind.
Rose can still walk into the Baseball's Hall of Fame Museum and can still see his memorabilia there on display for an adoring public to see, but they'll never get to see his plaque.
Dateline December 14, 2015 - The Day Of Reckoning
On Monday December 14, 2015, Commissioner Rob Manfred issued a 3 page statement that made it clearer than ever before that Rose will remain on Baseball's ineligibility list, and this status will remain with him as long as he shall live.
Manfred in a ruling that was made as transparent as possible disclosed all the facts to hand and after reading it, one wonders how anyone in the world could have come up with any alternative decision.
The commissioner detailed why Rose's bid for reinstatement was rejected and noted there was a failure to "reconfigure" his life sufficiently enough since the events of August 1989. This was the year he received a lifetime ban from the game for placing bets on MLB games, whilst acting as manager for the Cincinnati Reds.
After his September meeting with Rose, Manfred said that the all-time hits king confirmed that he still bets on the game, but it was the new evidence that surfaced this year that noted Rose was also betting on the Cincinnati Reds games in 1986, his very last year as their player manager.
He ran afoul of the game's hierarchy due to dealings with people such as Michael Bertolini, once a memorabilia dealer who kept a notebook with details of Rose gambling on the Reds whilst a player.
This evidence was kept from the public due to a court order but eventually released by ESPN in June. From that point on a headline saying "Pete Rose Reinstated" was never going to happen with the new revelations compelling Manfred to believe that Rose had been untruthful in many instances about his rule breaking, this was to be the sad end.