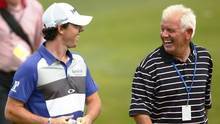 There are a lot of crazy bets that happen in the sports betting world.
You can bet on the outcomes of several games at a time, on who is going to score first, and which player will do very specific, particular things. In Europe, futures bets allow people to bet on their own teenage kids to achieve spectacular feats by a certain age, and golfer Rory McIlroy made a bit of history in winning such a bet for his father. This entire story is pretty crazy, but it led to an amazing payday.
If a bookmaker gives you odds on something at 850:1, then that's about as big of a longshot as you can get with bets that they will actually allow you to make. Gerry McIlroy is the father of golfer Rory McIlroy, and he placed a bet when Rory was just 15 years old that he would win the British Open before he turned 26. In a spectacular feat, Rory was able to win the 2014 British Open at age 25 to win the bet for his father. His payout on his £400 bet was an incredible £340,000.
Rory McIlroy is known for being one of the best golfers around. He's previously been ranked number one in the world, and at just 25 years old, he's coming off of winning his third major. He's got a lot of time to join the greats, and if his performance continues, he'll be sure to do just that. His father obviously had a lot of hope for him since a £400 bet is not cheap. However, the bet paid off, and it just goes to show that sometimes you'll win against even the longest odds.
Futures bets are pretty popular in Europe. The basic format is as follows. A proud parent has a son or daughter who plays some sport, and they are able to place a wager that the child will achieve a certain event by a certain age or certain date. As you can imagine, the vast majority of these bets do not win for the people placing them, but Gerry McIlroy is the exception.