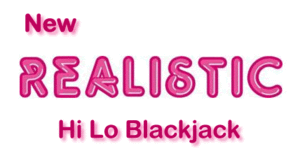 Realistic Games, always an innovative and inventive software developer, is adding a great new side bet to their leading blackjack game to excite players.
With the British table and slot game creator already having seen great success with their multi-channel Blackjack game, they are expanding to make Hi Lo Blackjack, giving players the chance to put down a side bet on whether the next card drawn will be higher or lower than the one already dealt. Not only does this give their players the chance to risk more for greater rewards but also generates fresh interest in the already successful game.
Hi Lo Blackjack Features
The features that made the original such a smash hit, intuitive controls, good pacing, and a flow that keeps players interested and invested are all still there, now with more incentive to test their limits. The game will offer users on tablet devices and playing on computers will be offered five boxes while those on mobile will be pleasantly surprised that they have the option of three.
Players can also rest assured that they are in good hands as the game warns when a misstep may have been made through an errant click on to stand up taking a card they didn't mean to. Easily customizable changes to the colour of the cloth on the table and the deck being used are also available so that players can be more comfortable with the game screen.
"As the revenues at many of the leading operators will attest, players love our Blackjack game. But we were very keen to build on its success by creating this simple, yet devilishly fun side bet," said Andy Harris, Commercial Director at Realistic. "In offering lower pay-out multipliers and much higher return to player margins, we have gone against the typical side bet model. Yet this will produce more regular winning experiences, and lead to better player engagement as a result."