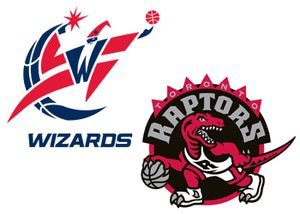 Looking to lay down some money on the Raptors for the NBA championships? Make sure you're aware of all their before trying to predict their potential.
With such a dedicated and devoted fan base, the Raptors can often be seen to have more people putting their bets down on their favourite NBA team than the odds would suggest. The official spread between Toronto and Washington for the April 21st game did not go in their favour, with book keepers giving an average 19 - 11 Power Ranking in favour of the Wizards. Washington took the second game of their series with a final score of 117 to 106. Their next game is April 24th with a predicted score of 102 to 101 in favour of the Canadian team heading toward the fourth game on April 26th.
Raptors General Manager: "We don't give a sh*t about 'it'!"
Fans can only hope that the players can get their heads on straight, work as a team, and start hitting the net more often instead of getting themselves wrapped up in media distractions like the General Manager. GM Masai Ujiri was speaking to a crowd outside the 'Jurassic Park' area of the Air Canada Centre in Toronto when he landed on the topic of Washington's forward Paul Pierce releasing an expletive that saw him slapped with a fine. This mirrors last year when Ujiri was fined $25,000 for another swear word before the post-season open against Brooklyn.
Thanks to the wonders of mobile technology, we can place our bets, watch games live, and check scores on the go but we can also take pictures and record video for apps like Vine. Masai found out that it costs him $35,000 personally and the team $25,000 to shout, "People want me to say something about Paul Pierce but, we don't give a sh*t about 'it'." This line was met with great cheers, partly because Ujiri is a great hype man, getting reactions whenever he speaks, and partly because it was a fitting response to Pierce shrugging his shoulders at the threat Toronto posed. In an interview he said, "I don't feel they have the 'it' that makes you worried."
Raptors guard wins Sixth Man Award after hitting several career highs.
At this point in the series, the team needs to rally and aspire to accomplish what their guard, Lou Williams, has accomplished. He was awarded The Sixth Man Award in his tenth year of play with the NBA, averaging career highs of 15.5 points per game and 152 three point shots. Hopefully his performance can inspire his team to get through to the next round in the championship games and come out on top of the 50 to 1 odds placed on their chance of taking it all.