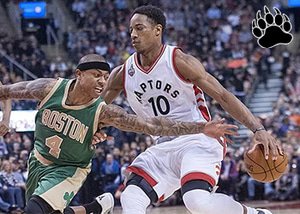 For the first time, the Boston Celtics are not considered the favourites to win the Atlantic Division in the 2017-18 NBA season.
According to Bet365 Sportsbook, the Toronto Raptors are considered the front-runners at -1200 to collect the banner when the regular season ends. The Boston Celtics are currently in plus-money at +600. When the regular season started, the Boston Celtics were favoured at -400 to win the Atlantic Division, while the Toronto Raptors were at +550. When looking at the Eastern Conference futures, the Cleveland Cavaliers remain the favourites at +150 while the Raptors are ranked second at +190, along with the Celtics in third at +275.
Current NBA Standings
As of March 15, the Toronto Raptors currently occupy the top position in the Eastern Conference at 50-17 SU, while the Boston Celtics are behind with a 46-22 record. In recent years, both these teams have been extremely competitive, but in the NBA sports betting community it's clear that they were expecting the Boston Celtics to run away in the Atlantic Division after Boston claimed the division in the 2016-17 season before losing to the Cleveland Cavaliers in the Eastern Conference finals.
The Toronto Raptors' +8.9 point differential currently ranks them second in the National Basketball Association, only behind the Houston Rockets with a point differential of +9.0. The Boston Celtics are in fourth place at +4.2 but are ranked 19th in points per game at 104.7, while the Toronto Raptors are ranked third at 112.3. The Toronto Raptors had a difficult time earning the respect of sports betting fans due to several postseason disappointments in the past, but this edition of the Dinos feels different.
Boston currently has the edge when it comes to the betting window, as the Celtics are considered the top spread bet at 41-25-2 ATS. The Raptors aren't far off at 39-28 ATS and has produced money while playing at home at 19-14 ATS.
Toronto Raptors Secret to Success
The success behind the Dinos in the 2017-18 regular season can be contributed to several key factors. The Raptors have managed to stay in the hunt thanks to their dynamic backcourt duo consisting of DeMar DeRozan and Kyle Lowry. This allowed the Raptors to go head to head with any guard tandem featured in the NBA. They also possess one of the deepest and best bench units in the NBA, with the likes of Jakob Poeltl, Fred VanVleet, Pascal Siakam, C.J Miles, Norman Powell, and Delon Wright able to come in and provide necessary support without missing a single step on either side of the floor.