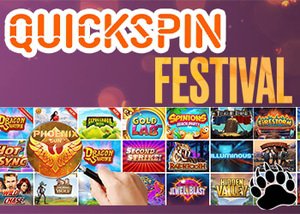 Participate in the first network tournament from Quickspin in 2019 and stand a chance to win your share of $50,000 in cash prizes with tournaments and raffles.
Quickspin, a subsidiary of the Playtech Group, recently announced that the company will launch an exclusive network tournament for the first time in 2019 called the Quickspin Festival. The network tournament from the Swedish software developer is scheduled to start towards the end of May and will run until the beginning of June to give players ample opportunity to walk away with a glorious amount of cash prizes thanks to several tournaments and challenges that will take place during the promotional period.
This exclusive network tournament from Quickspin casino software is considered the first of its kind from the renowned software developer and will be available at all Quickspin casinos on a wide variety of classic slot games. What's even more exciting is that the Quickspin Festival will not only be presented on desktop but will also be available on both mobile and tablet devices for added convenience, allowing players to participate in the network tournament while on the move.
Quickspin Festival Details
The exclusive network tournament from Quickspin will allow players to participate in Quickspin Challenges as well as Quickspin Tournaments during the promotional period which is considered two of the most outstanding gamification tools from the software developer. Both the Quickspin Challenges and Quickspin Tournaments will allow players to enjoy classic slot titles, such as Sakura Fortune and Big Bad Wolf, along with more recent slots like Tiger's Glory and Eastern Emeralds.
The total prize pool for the Quickspin Festival will be $50,000 in cash prizes and rewards and will be divided into raffle Tournaments to the value of $40,000 and raffle Challenges to the value of $10,000. The Quickspin Festival will start on 28 May 2019 and will run until 2 June 2019. All Quickspin casino operators are required to run a minimum of three Challenges of their choice that needs to be set up prior to the start of the Quickspin Festival.
While playing the above-mentioned slots, players will need to display a scatter symbol to receive 5 points during the promotion or 100 points whenever the free spin feature is unlocked during play. Players can look forward to a single game tournament every day from Tuesday to Friday with a $10,000 prize pool on each of the four days, giving players the opportunity to win $40,000 each week. Players will also be treated to a $10,000 raffle that will be available to all players that manage to complete all levels in Challenges which will be available on 1 and 2 June 2019. Quickspin will select 10 lucky players on 3 June 2019 that will each receive $1,000 in cash prizes.
Comments from Chief Commercial Officer at Quickspin
The Chief Commercial Officer at Quickspin, Paul Myatt, stated: "We offered our first network tournament shortly after we released Tournaments towards the end of summer in 2018, and the overall results were outstanding! There's been plenty of wonderful improvements since and Tournaments are now bigger and better than ever along with the release of Challenges. We are extremely happy with the fact that these two gamification tools has proved to be quite successful when it comes to the company, casino operators, and most importantly, our players. It's for this reason that we decided to celebrate the remarkable success of our gamification tools by sponsoring a $50,000 network tournament which will be available at all Quickspin casinos towards the end of May."
Where to Participate in the Quickspin Festival
As previously stated, the Quickspin Festival will be available from 28 May 2019 until 2 June 2019 at all Quickspin casinos. However, if you are looking for an online casino that provides a plethora of casino games along with some of the most rewarding and generous promotions on the planet, we at Grizzly Gambling highly recommend that you participate in the Quickspin Festival at Slots Million Casino where newly registered players from Canada will also be entitled to a 100% welcome bonus up to $100.