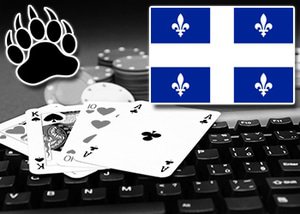 It looks as if the Canadian province of Quebec is going to move forward with their plans to block unlicensed gambling sites. There is a lot of outcry over this move with many critics believing that they are trying to censor the internet.
In an article last week by the Globe and Mail, we heard that Finance Minister Carlos Leitao has tabled legislation on the implementation of the provincial budget. This includes amendments to the local Consumer Protection Act, which orders Internet service providers to block "unauthorized gambling sites." This means that any site that is not approved by Loto-Quebec will be considered "unauthorized" and internet service providers will receive an approved list. Those that fail to comply with this will face a fine reaching up to $100,000 and up to $200,000 for additional offenses.
The whole move is aimed at bringing in an additional $13.5 million in 2016-2017 in online gambling revenues for the government site, Espacejeux.
According to Timothy Denton, chairman of the Internet Society Canadian chapter which is all about keeping the internet open and free, this move is nothing but censorship and it is blocking access to otherwise legally available sites in the interest of enhancing one's gambling monopoly. He went on to say that the plan sets a dangerous precedent for censorship of the internet and is something that is technically unworkable because Quebec doesn't have the authority to regulate the internet in a manner such as this. He has said previously that the scheme is not only "expensive", but also "futile" and "sets a bad precedent." This was all voiced in a letter to Leitao, which also argued that the plan would be costly for ISPs and that it could put smaller ISPs out of business as well as raising internet price. There are more than 70 small ISPs in Quebec. Denton has admitted that gambling can pose a problem for some people but online gambling isn't illegal and he wouldn't try to prevent it.
According to Bram Abramson, chief legal and regulatory officer for independent ISP TekSavvy Solutions Inc., there would be a lot of real repercussions and it will be the first time any Canadian government has ordered ISPs to block content and to choose which parts of the internet users can and cannot access. He went on to say that TekSavvy has a lot of customers in Quebec and it would be an expensive proposition to block certain website addresses for those users only. They would have to re-engineer their network to segregate out Quebec and set up different servers for their Quebec only users. This would cost significant money and time for something that will likely be ineffective.
There are ways around the plan too and Canadian gamblers can use the virtual private network (VPN), which will allow them to watch content that is not available in the country. Players can also just change their domain name system (DNS) to the ones provided by some free DNS servers.
Nathalie Roberge, a spokeswoman for the Finance Minister, said the Quebec government sees this as an extension of their long-held right to regulate gambling. According to her, "these activities have evolved and are now online and we have jurisdiction to regulate gambling activities and this is what this project will do." There is no timeline for the proposed legislation and Roberge said it would be studied and debated first.
Quebec's plan has a lot of opposition and criticism with many believing that online gambling licenses will be issued to select operators in particular Montreal based Amaya Gaming, with whom Loto-Quebec already have a partnership. If this plan goes ahead it will also mean that Quebec players will have a much smaller choice of gambling websites to choose from, and this affects the constitutional rights of free choice and creates prerequisites for censorship.
In the meantime, players from Quebec can still enjoy playing on all gambling websites and spend time looking for an alternative before this law is implemented.