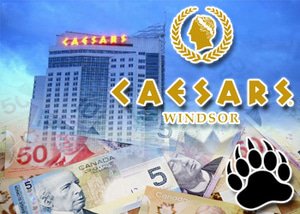 The weakening of the Canadian dollar is part of the reason that the law few months have seen profits for Caesars Windsor actually going up instead of down as has been the norm for several years now.
According to public OLG records, between the years 2009 and 2014, revenues for this casino have dropped from approximately $273 million to just $236 million. However, in recent quarters revenues have been climbing as have the number of visitors. This turnaround seems to coincide with the dropping Canadian dollar, an improving US economy, and perhaps the cheaper gas prices that have been seen in recent months too.
According to figures, in June, nearly 50,000 more Americans crossed into Canada in their cars than in May. About 90,000 more Americans came into Canada in their car this June than compared with the same month last year. That is a massive increase that sits around 15 per cent. According to Gordon Orr, CEO of Tourism Windsor Essex Pelee Island, it means that US tourists are coming back into the country.
Reports also spoke with some tourists who confirmed that the low loonie had paid a part and that many of them were taking advantage of the exchange rate and going shopping.
It is a known fact that casino and local tourism sites have been struggling since the introduction of stricter border regulations in 2009. Bill Baker, owner and operator of WE Trolley Tours and Beachside Eats and Treats in Colchester, said that he has been receiving a lot more calls from Americans recently.
Leading Attractions: Low CAD and Tax-Free Winnings
Jhoan Baluyot, spokeswoman for Caesars Windsor stated that the exchange rate seems to have an effect on whether or not US tourists choose to travel across the border for their holidays. She went on to say that they are actively promoting the exchange rate in the US using billboards and radio ads that are reminding Americans that they are getting more from their dollar and they also benefit from tax-free winnings at the casino too. Caesars casino hotel has had an 80 to 90 per cent occupancy on weekdays and has been full at weekends.
Windsor Hotels have seen a 12 per cent increase in occupancy and this year Windsor also hit the top 20 list of most visited cities in Canada according to bookings through a popular online booking hotel website. Windsor's tourism industry is growing at twice the rate of the rest of the region and according to Orr, and this is down to ensuring that all US tourists that visit enjoy themselves so much that they want to come back.
Opportunities For New Canadian Casinos
It's not just Windsor casinos that are thriving either, Cascades Casino Kamloops opened the door to its new $40 million entertainment centre this month in British Columbia too. This casino will employ 330 people and 200 of these positions are new. This is excellent news for the Canadian economy. This new casino is owned by Burnaby, B.C., based Gateway Casinos & Entertainment who also operate in Alberta and are redeveloping two further properties in Edmonton also.