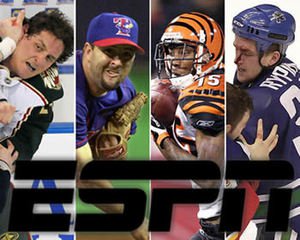 The most recent issue of ESPN The Magazine, which focused on gambling, included a poll the publication took of athletes from the four major team sports organizations in the United States - Major League Baseball, National Basketball Association, National Football League and National Hockey League - regarding their attitude toward the legalization of sports betting, among other things.
This is somewhat out of the ordinary, so needless to say, the results were going to raise a few eyebrows.
The sampling was not especially big (73 athletes) but it was not small either. And 63% of then told the pollsters that they believed sports betting should be legal. What is interesting about the figure is that 41% of the players surveyed felt that legal sports betting would challenge the integrity of their sport, which is essentially the opinion of their employers. And 37% of them felt as if, at one time or another, a teammate may have had a gambling problem. But only 3% suspect that games in their sport, or others, could be fixed for gambling purposes, although one player, anonymously quoted, said that it may be easy to think a game is fixed if calls (from officials) didn't go their way.
What might be cause for alarm, if you truly believe that the games are in danger of being corrupted by the presence of gambling, is that 10% of the athletes surveyed said that they have heard of someone being approached for injury information. This could mean a few different things; it may even be for the sake of fantasy sports. But with players utilizing social media outlets such as Twitter and Facebook, access is potentially easier than ever.
Some folks might be surprised that the athletes were themselves sports bettors; well, at least to a certain extent, as 34% of them, which is more than one-third, say that they gamble on other sports. And one can imagine that with lots of disposable income, there is the potential for these athletes to be high-rollers, even more than retired NBA star Charles Barkley, who is absolutely non-apologetic about his gambling activities.
Some of the polling data may not seem to make all that much sense. For example, while only 42% of the players say they are aware of point spreads (or, we imagine, odds of other kinds in hockey and baseball), 75% of them felt that being an underdog (we presume in the betting lines) was the kind of motivator that might actually give them a psychological advantage in a game. We should probably consider that many athletes invariably might feel like an "underdog," regardless of their awareness of betting odds on any given event.
What will athletes gamble on? Well, 58% of them say they gamble on SOMETHING, and it could be a wager on who can drink a gallon of milk the fastest, or a snake race, or even how fast someone could run through a fountain - while it was frozen. Yes, those are examples. Should we be worried?