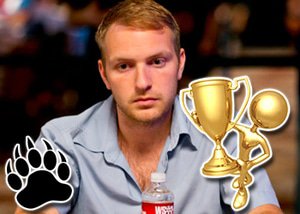 Mike Watson from St. John's really cashed in at one of PokerStars international poker tournaments earlier this month when he won the top prize and took home more than $1 million.
Mike Watson, SirWatts, won the main event at the 2016 PokerStars Caribbean Adventure in the Bahamas in January. Watson walked away from the table with a win of US$738,245 which his just over $1 million Canadian dollars.
The 31-year-old Canadian poker professional topped a field of 928 players to win the $5,300 no-limit hold'em main event. To do this he has to overcome a stacked final table. He entered the final day of the event as the largest stack among the six remaining players but he was joined by big names including Vladimir Troyanovsky, Toby Lewis, and Tony Gregg. It was Gregg who survived to heads-up and the two duked it out for 71 hands in total. The eventual win saw Watson awarded 1824 Player of the Year points which puts him straight into the lead in the POY race.
In a post win interview with PokerNews.com, Mike said that it was an amazing victory. He went on to say that it was a big win for him and that anytime you win a main event with such a big field it definitely has a little bit of a special feeling to it.
Mike also went on to say that he would love to say that he outplayed everyone but that really the cards just fell his way. He took to Twitter to thank everyone for their support saying that to win another big win event after so long hadn't really sunk in year and that he was overwhelmed by all the love and support he had been receiving from fans.
Mike is known as SirWatts in the online poker world. He began playing online and has been a regular on the live poker scene for more than ten years. Practicing playing poker online, and unfortunately not at a Newfoundland poker site, has surely helped with his success. This new win puts his overall career earnings at roughly $9 million.
Mike graduated from the University of Waterloo and has a degree in math. He now calls Toronto his home.