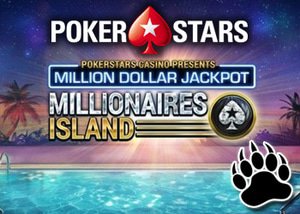 New innovative poker slot game, Millionaires Island, is raking up an exhilarating storm in the online gaming trade.
Every jackpot winner will end up an instant millionaire, rendering this slot as one of the most sensational video slot games of its time in the trade!
Powered by award-winning gambling destination PokerStars, the release of this thrilling new slot will enable every jackpot winner to become an instant millionaire. It is categorized as the first online slot with a brand exclusive Progressive Jackpot of at least $1 million, from wagers as little as $0.50 as well as the opportunity to experience numerous award-winning moments to obtain life-changing rewards.
Unleashing an exclusive slot game with the biggest independent minimum jackpot in the trade, it exhibits PokerStars Casino with a distinctive, competitive edge to spur it on in its charge to become the world's primary and finest online casino. Since the game launch the size of the jackpot has grown rapidly and will continue to enhance with every spin of the reels. The slot presents players with a theme of prosperity and is available to enjoy as free download software compatible on mobile and desktop. Expect to encounter high-resolution graphics and seamless animations throughout your gaming experience.
Director of PokerStars Casino, Sam Hobcraft, said the following during a statement: "Millionaires Island is the first exclusive slot game to be developed by PokerStars Casino, adding to the already industry-leading product on offer. This is the first in a series of in-house developed games as we strive to make PokerStars the favourite eGaming destination for more players than ever before. It's already proving itself to be hugely popular with our players."
Millionaires Island is the principal in a chain of in-house established games PokerStars has in line for punters to benefit from. The slot game is at this point in time live on all European markets, UK and .COM where PokerStars casino is available. If you want to become a millionaire then start spinning those reels and make your dreams come true. You might never know. It may be you hitting that jackpot in the feature.