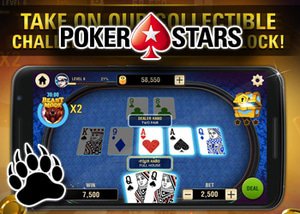 PokerStars introduced Free to Play Poker as well as its new Casino App for Android and iOS.
The thrilling new Casino Rush application by PokerStars provides players with innovative fast game speed and the first-of-its-kind mobile app is action-packed with games that are easy to install on all devices supporting iOS and Android.
Once the new PokerStars app was launched the Director of Social Gaming, Lloyd Melnick shared that the plenty of time was spent on assessing what players wanted, what was still missing and the social casino market in general and their analysis revealed that social players are longing for a poker experience that allows easy access, fast loading, and the games should be available when mobile casino users are connected to the internet as well as offline. After reviewing the analysis PokerStars Casino Rush was created, and the app offers players the best of casino game, poker and slots fused into one phenomenal game, a game famed to offer players everything they looked for in 2016.
Created in Connection with Seven Deuces
PokerStars Casino Rush was developed in cooperation with Seven Deuces Games to provide online players with a staggering 75,000 chips for free upon signup and additional free chips are available once new games are unlocked include titles such as All in Split, Swap the Flop Poker, and Lucky Hands.
The new Pokerstars app is perfect for mobile casino players and can be obtained from app stores offering free download apps for Android and iOS devices allowing players to enjoy gaming online as well as offline. Users will also be in a position to challenge other poker players in leading positions on the Casino Rush leader board and the app allow players to take partake in private leaderboard games with close friends.
PokerStars have also launched its very first televised campaign to advertise in the UK all in aid of promoting its casino services and adverts are across digital stations in the UK and include advertising on video displays with the promotion showcasing games such as roulette, blackjack, and slots available at PokerStars Casino. The campaign is a new strategy used by PokerStars aiming to grow the casino brand. The company plans to effectively grow the casino brand in other countries and continue on its success path achieved over the past two years.
PokerStars Casino plans to grow from being one of the best-kept secrets to a powerhouse welcoming millions of players to its casino to enjoy a unique experience while the casino brand offers its services to a much wider international audience.