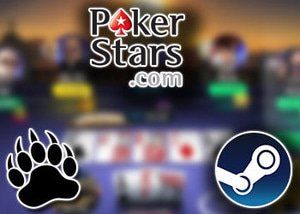 PokerStars Jackpot Poker was launched by the largest online poker room to the biggest PC gaming portal and is now available on Stream.
The new release received mixed early reviews while PokerStars jumped over several hurdles to offers its free to play casino and poker game to players that spend their time chasing bad guys on Stream.
In January 2017 the gaming platform reported a record of 14.2 concurrent viewers, and at the same time, it also has an active users total of 125 million, which makes it the perfect environment for a poker room to have a presence.
Statistically, the games became available on Stream on the 20th of March and currently shows 57 reviews, while it scored an average rating of 6 out of 10. Some of the reviewers mentioned that the touchscreen operability is not as good as with a mouse and keyboard. Apart from the mixed reviews, the PokerStars, Jackpot Poker is free to play and offer the best poker playing. A myriad of branded games are available at Pokerstars Casino such as Jackpot Poker and include casino style slots, Spin & Go as well as both Pot-Limit Omaha and No-Limit Hold'Em.
Jackpot Poker Not First Poker On Stream
The new Jackpot Poker is not the first Stream poker game and follows the Poker Night 2 game, which was originally released in 2013. Telltale's Poker had 3,822 reviews and enjoyed an average rating of 9 out of 10. A story-based game called Prominence Poker created in assistance with Max Pescatori was rated 7 out of 10 by 1,121 reviews. Full Tilt was the first real money online mainstream poker room that moved to Stream, but reviews pointed out that it lacked realism.
PokerStars
Pokerstars is a popular gambling destination offering multiplayer tournaments as well as other cutting edge features. Full Tilt Poker and PokerStars are operated and owned by Rational Entertainment Enterprises. New players at the Pokerstars Casino can select from a variety of welcome offers while PokerStars are also famed for awarding generous loyalty points, accumulated the points can be traded for cash or items offered at the VIP store. The mobile casino is optimized for Android, iPhone and iPad the mobile poker app provide instant access to ring games and tournaments while support is offered in French and English.