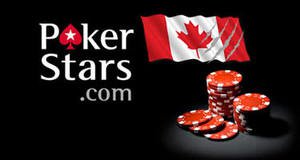 It seems like PokerStars has been in the news more in the past six months than in the past six years at times, but it's for good reason.
In the online poker world, PokerStars has been king for a long time, but they are stirring up a lot of news recently over major changes and major numbers that have been posted by the company that owns them, the Amaya Gaming Group. This news is extremely exciting to poker players abroad and online gambling fans in Canada because of the direction they are taking the site.
There are a lot of online casinos that use the word "slots" in the name, but players know that they usually offer a lot more than slots. There is a similar case with PokerStars now since they're offering a lot more than just poker. A great example is how they have added casino games in the past couple of months, but they have also announced that sports betting will be coming up before long. The launch was initially schedule for the first quarter, but even though they've missed that date, it's still going to be coming up very soon.
In another key piece of news, the Amaya Gaming Group has posted a massive profit of $293 million for 2014. This includes revenues of more than $688 million (CAD), and that just goes to show that all of these business deals and major changes to PokerStars is paying off. They have brought the center of the online poker world to Canada, and they are definitely making this country proud with the work they have done to boost not only PokerStars but the entire online poker industry.
They are also looking to get gambling licenses in Toronto and other provinces, though they might be running into some legal troubles there because it's not immediately apparent if the provinces have the authority to license outside companies to run games. In any event, there are measures in the Canadian legislature right now that could change the wording in laws for online gambling to allow for this sort of thing, and it will be really interesting to see if they'll be able to make that happen in the upcoming quarters.