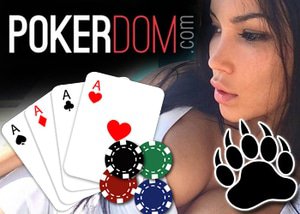 Aleksandra Markina, Svetlana Bilyalova and other Russian hotties are waiting to take their clothes off exclusively for you, if you can beat them at poker that is.
Alright, maybe these Russian models don't have same notoriety or integrity as your typical unlicensed online casino where virtually any kind of game is available. Some Russian gamblers may have secretly been harbouring the thought of how far out could the boat be pushed though. With so many incredible innovations to standard games, it really seems that not a single trick has been missed, especially with Poker and its satellites, tournaments, freerolls and multitude of variants, surely they would never go so far as to include online Strip Poker, or would they?
From Russia With Love - Online Strip Poker Makes Satellite Debut!
Adding a brand new twist to their Freeroll tab, in just a few short days Russian online casino Pokerdom are offering their satellite players the chance to participate in a brand new game.
Players will all compete against one another every Monday, Wednesday, Thursday & Friday at 21:00 MSK, all with their eye firmly set on one target; that to be part of Pokerdom's special Sunday freeroll tournament entitled "Texas Hold'em Freezeout Get Her Stripped".
Here sparsely clad famous models and now social network stars Aleksandra Markina, Svetlana Bilyalova, and stunning spouse of famous Russian rapper Guf, Aiza Dolatova, will be on hand to play the two winners of each satellite. That's 3 Strip Poker finals, with all the chosen winners playing against these notorious female icons. Yes guys, welcome to online Strip Poker.
Needless to say the only real point of the game is for these famous Russian celeb models to eliminate their bare essentials, and each time they lose a stack they are required to take off one of the items they are wearing. The girls can make 2 rebuys; this means overall they have to remove 3 articles of clothing.
Alright, maybe these Russian models don't have the same name recognition as their Canadian superstar counterparts, but these days the attitude appears to be no publicity is bad publicity. Could anyone seriously imagine our own Celine Dion participating in such kind of promotion? Would she really want to!
Could such an unprecedented promotion make its ways to the regulated gaming states in America, like Nevada, New Jersey or Delaware? Like to see them try, especially after the time it's taken them just to get online games legalized. It will be interesting to see how popular Pokerdom's Online Strip Poker proves to be; meanwhile women don't rule online games, not yet any way!