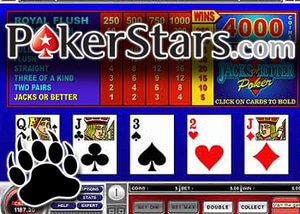 The Poker Stars Online Casino continues to expand their online gaming offers and those that regularly play at their online casino will by now probably have noticed they have a new tab situated at the top of their client.
In addition to Roulette, Baccarat, Blackjack and other table games they have, the Poker Stars Online Casino has now made Video Poker available in various selected markets. One assumes this will be continued to be rolled out further, over the not too distant future.
Poker Stars - Rolling Out Casino Games Since Late 2014
Poker Stars initially started their casino game rollout in their online Poker client towards the end of 2014. This followed their parent company's acquisition by Amaya, which took place earlier that year. Since that time, they have added sports betting to their client and now also offer Daily Fantasy Sports, which in the US is accessed through StarsDraft.
Many compare Video Poker to slots, however unlike slots in keeping with it's distant online Poker cousin, it's much a game of skill. Though it's actually based on the game of Poker, there is little else that it has in common with Poker, and one could say that it is more closely related to other traditional casino games, the likes of Blackjack.
As with Blackjack, Video Poker is not played against opposition players but played against the Dealer. The game also has a low house edge hence allowing players more time to play on their buy-in.
Differing from other casino table games, Video Poker is played on one's own, and accordingly provides a comparable experience to that of playing online slots or other online games. When it comes to ranking hands, the two games both have different payouts and as some of the game titles imply, such as Deuces Wild, some variants also utilize Wild cards.
Poker stars have also released some new slots which now brings their available game title total to 87, with 16 of these available to be played on mobile devices. Slots have now been added to their list of casino games in Spain. Previously there were only table games for online players to play.
In Italy the Poker Stars Online Casino have added Live Dealer table games where players are now allowed to interact with their Dealers. The Live Dealer alternative had already been made available to Spanish players, and also the wider dot-com market, earlier in the year.