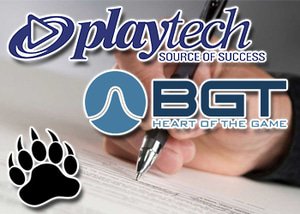 Playtech are set to become even stronger after spending €138 million on the acquisition of Best Gaming Technologies. The purpose of the acquisition is thought to be the enhancement of the self-service betting terminals used by Ladbrokes in the UK.
For the past couple of years, Playtech has been doing a lot of acquisition within the online gambling industry as well as in similar industries like online currency trading. They have now just spend €138 million to purchase technology provider Best Gaming Technologies.
Playtech BGT Acquisition in More Detail
The acquisition sees the casino software giant purchasing 90% of Best Gaming Technologies and they still have the right to purchase the remaining 10% for the price of €55 million. Best Gaming Technologies is an Austrian company that was founded in 2005 by Armin Sageder who is to remain CEO of the company for at least another 3 years with following the completion of this transaction. He also retains the other 10% which Playtech can purchase at a value of 6x BGT's 2019 earnings, with a €55 million cap.
Best Gaming Technologies gained their popularity and success for offering their fully serviced terminals in Playtech's core market, the UK, and also in a few major European markets too. They provide the proprietary software for around 24k terminals in retail betting shops. With this acquisition, Playtech is thought to further increase their share in the UK market as well as penetrate additional markets by adopting a better kind of technology. These self-service terminals are used by Ladbrokes.
In addition to SSBT technology, BGT also provides ePOS (electronic point of sale) and till systems for retail betting operators. They also offer an Omni-channel web and mobile betting platform.
Playtech CEO Mor Weizer said the BGT acquisition makes Playtech the only company that will offer FOBTs (fixed-odds betting terminals) and SSBTs, all integrated with the world's leading online platform and products. This acquisition will allow Playtech and BGT to take Omni-channel to the next level.
This acquisition also suggests that Playtech may be less interested in entering the bitcoin gambling market and focusing their attention on the traditional gambling instead. I guess this means we won't see any bitcoin Playtech slots being released anytime soon.
How Big is the Playtech Acquisition Budget
This latest Playtech acquisition could be the result of their failure to purchase companies in the FX industry. Playtech had offered to purchase Plus500, a London-listed FX giant, for £460 million pounds in June 2015 but the offer was not accepted by the financial regulators. In October 2015 they tried to acquire FX brokerage, AVA Trade for $106 million but the Central Bank of Ireland objected.
Taking this into consideration, it would seem that Playtech has quite a lot of funds left in their acquisition budget and the acquisition of Best Gaming Technologies could be just the tip of the iceberg.