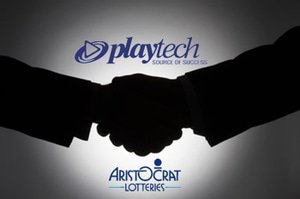 Playtech has purchased the lotteries division of Aristocrat in a move that is interesting and disappointing at the same time.
Since the late-1990s, Playtech has been a powerhouse in the online gambling world. Unlike some of the other software developers in that space, they have focused on having a wide-reaching set of software applications instead of just focusing on one or two aspects of the gambling world as a whole. This has led Playtech to some pretty interesting places, and it has also led them to recently paying out €10.5 million for the lottery operation wing of Aristocrat. This purchase is really interesting, but it's also letting down a lot of players in one specific way.
The basic idea behind Playtech's strategy is to provide services to as many players as possible. In the process of spreading out so much, however, a lot of people feel like they have let down one of their core groups: online casino players. By not focusing a lot of time and resources into providing new titles on a regular basis like a lot of their competition, Playtech has slowly been losing loyal players.
The Aristocrat deal would have been huge news for Canadian players if it also included their online slots games. This could have injected a bit of fresh content into the Playtech-powered casino sites making them more robust with a better selection of games by adding the likes of Where's The Gold and Pomeii into an already impressive selection of Playtech slots games which include the popular Marvel slots such as The Incredible Hulk and The Avengers slot. Unfortunately, this isn't the case, and the deal only included the lottery side of the business. Despite this disappointment, it's an interesting move that pushes Playtech in yet another direction as they seem to be moving away from poker's slow-but-steady decline and move towards offering a wider range of games for players all over the world.
Shay Segev was put into the Head of Retail position fairly recently, and he's also the COO of Playtech. He said, "Playtech's multi-channel solution means that this content can be deployed across any location and delivered through any device as well as allowing operators to cross-sell their customers into digital channels." As you can see from this statement, they are all about casting as wide of a net as possible, and while this is a good business strategy that's different from what most of their main competitors are doing, it's leaving a lot of online casino fans really wanting more.