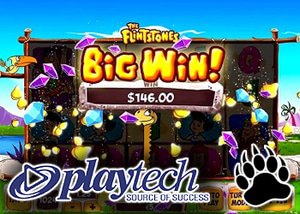 A game bound to grip the imagination of slot enthusiasts new and old is the new Flintstones slots game.
It's due to be released shortly in 2016 by a company that have been in the news recently with a flurry of partnerships with some of the biggest online casinos, namely that of the well-established gaming developers Playtech. With such a name behind its development we take a quick look at what can be expected and finally a recommended casino where the game can be played in Canada.
Meet the Flintstones - Lets All Have a Yabba Dabba Doo Time!
It's hard to imagine there's anyone out there who's not familiar with this popular TV cartoon series which aired between 1960-1966. The show was a Hanna-Barbera production, who produced other famous animations at the time, and this particular cartoon told the story of a guy called Fred living in the stone age along with his friends and family. The Flintstones slots game relives those magical moments of a world where dinosaurs roamed and early day cars were made out of rock, what else can be anticipated?
Expect a 5 reel slot game accompanied by 1024 different ways to win along with exciting bonus games, Wilds and Free Spins to take advantage of, whilst the story of the game unfolds. Since this is a game created under license, on its reels you'll discover all the show's main characters namely Fred, his wife Wilma, daughter Pebbles, friends Barney and Betty Rubble and of course Fred & Wilma's famous dinosaur pet Dino.
So far we can say that the design quality is more than comparable to what's been seen on TV, maybe even better. Looking at the game's backround we see an image of Fred's home made out of stone along with a nearby lake. The symbols with Barney Rubble and Fred Flintstone appear stacked and take up two positions, whilst Wilma and Betty along with the house are normal sized.
With 1024 ways to win at the Flintstones slots game, the game-play will form combinations by landing symbols that match on adjacent reels. There is a multiple bonus feature, one involving a bowling game, there's Free Spins to add to the excitement with loads of Wilds spread over the reels by a tiny dinosaur/elephant too.
If you want to join in all the fun and capers and head back to an age you thought had gone by, then visit the Slots Heaven casino to be one of the first to play. Are you ready? It's time to meet the Flintstones, Yabba Dabba Doo!