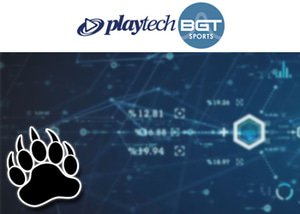 The new Playtech BetTracker system has been rolled out ahead of the football season to great enthusiasm by those who like to bet on sports.
Playtech announced the rollout of their much anticipated BetTracker product ahead of the football season. This new BGT spots tool has gone live with Playtech's omnichannel operators. This tool which is also available as an app allows players to transfer their sports bets that are placed on SSBT's to their mobile device.
It means that sports betting enthusiasts can still enjoy the thrill of placing their bets on football games on the go. The Playtech BetTracker is compatible with all up to date Apple and Android mobile devices. At present, it is only available on five different sportsbooks but it will go live with several more operators over the coming weeks.
John Petit, Managing Director for UK, Ireland, Asia, and Australia at Playtech BGT Sports said, "BetTracker has been a fantastic addition to the retail sector since its launch, and we're pleased that many of our existing partners are now offering it to their customers. The unique app provides players with much greater choice, improving the user experience and in turn, boosting incremental revenue in shops as it attracts new and existing customers alike. With the football season kicking off soon, we are hoping to carry the momentum, and are confident this rollout will continue significantly to that."
The Playtech BetTracker app is available on the Apple and Google app stores and will allow bettors to manage their shop-placed wagers on the go without the need for an online profile. This is done by scanning betting slips into the bespoke app. The bettor is then able to return to any of the operator's retail outlets to collect their winnings in cash.
The new product is now live with five independent UK bookmakers which are, Betfred, JenningsBet, Boylesports, Sean Graham, and Corbett's. Three more bookmakers are set to go live in the coming weeks too and these are, Joe Jennings, David Pluck, and Chisholm. This new product is going to make a huge difference for those who like to bet on sports and it is a great addition to the Playtech casinos product. We expect to see this product being released on a much wider scale after this initial rollout period and will report on that as it transpires.
Get In on The Action With Sports Betting in Canada
If you are a sports betting fan and you want to get in on the football season action, be sure to visit out Canadian sports betting page where you will find all the information you need. We cover the best sportsbooks, tell you how to get the best bonus deals, understand betting odds, and so much more. Our sports betting Canada section is packed full of great information and if you want to place your wagers online and never miss a football match we tell you which sites offer live betting options, in play action, and more. Check it out today and keep an eye out for the release of the Playtech BetTracker in Canada too.