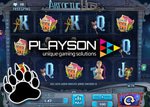 Playson unique gaming solutions surprised online players with a brand new release this week called Art of the Heist.
The video slot showcases this new slot creation in a unique way and claims that theft is an art form that takes years to master.
The brand new release offers everyone the opportunity to learn from the greatest and most notorious thief of all times himself, Vincenzo. He is indeed the master and pulled off the heist when he was involved with the theft that took place in the Louvre, then walked away with the Mona Lisa painting hidden under his smock. With the Mona Lisa being worth around $700 million, this heist is one of the most lucrative of all times!
What Art of the Heist Has in Store for You
The journey to riches while rubbing shoulders with Vincenzo starts on 5 reels offering 21 paylines. This is a pathway to where the world's masterpieces are hidden, and the master is eager to show players the finer art of robbing the museum. Allow Vincenzo to complete what is necessary and follow his footsteps as he triggers the free spins bonus round. Once triggered, the free spins bonus round activates ten free spins during which new wins can be enjoyed from the stacked wilds.
What makes this Art of the Heist slot experience one of excitement and, at the same time, one where you need to be extremely careful, is the variety of special symbols, and the only way to actually triggers the bonus games is via the Mona Lisa. Once triggered, this opens up rooms where more rooms can be explored as well as the alarm control. The security officer detains Vincenzo for three spins and all interaction with any other symbols are blocked during the detailed time period. During the bonus game, you will have to make a correct guess to switch off the alarm system, which enables stealing of the masterpiece and it also gives you access to the super bonus. Initially, you start off with 7 keys, and each key will open one door, and there are two keys hidden within the rooms. Winnings within the rooms can reach up to 5x your stake and the super bonus offers an astounding 20x your bet.
Wild symbols represented by the treasure chest are sneaky in this online slot game, Art of the Heist, and not only functions as substitutes for other symbols, but, when it teams up with Vincenzo in the same cell, it permits additional free spins.
If at anytime you feel the urge to dribble over your rich findings, simply see your total winnings plus the collection of masterpieces in the award room. Indeed, a game well worth playing from Playson, Art of the Heist slot is now available on desktop and mobile.