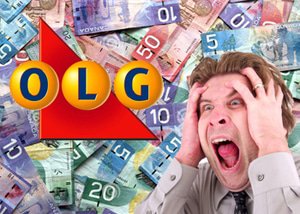 Surprise fees are catching some users unaware as they seeing surprise fees coming from their transactions with OLG's online lottery purchasing option.
The convenience that being able to purchase lottery tickets online has presented players with means no more waiting in long lines in convenience stores, gas stations, and other outlets. However, some users are finding that there comes an additional charge when using their credit card to avoid real world inconveniences.
"I deposited $18 and was charged an extra $5..."
David, a player who buy his tickets through the internet said, "I bought Lotto 649 tickets from the OLG casino website and it was convenient - until I got my credit card bill. I deposited $18 and was charged an extra $5 on my credit card for a cash equivalent fee." He is not alone in finding the extra charges on his chosen payment method.
Notice on OLG's site warns of possible extra fees.
OLG's website contains a written warning that users may face an additional fee applied not by them but by their credit card company, "your credit card issuer may apply a cash advance fee when using credit cards on playolg. You can also add funds using Interact. Check if your bank charges additional fees for this service."
While the notion of being charged an additional fee, that has only been seen since the online service has been available, is already bad enough, credit card companies also charge interest on purchases made and not paid off as of the monthly billing period. This increases the amount that the users sees on top of their purchase. Some credit card and banking companies do not allow use of this service so players are urged to check if they will be allowed and face additional charges.
While they do offer the notice, so that players using this payment method are aware of possible extra charges, and they offer different casino payment solutions, other online gambling outlets do not present this problem for their users. Most online casinos and gambling sites, both domestic and international cover all processing fees in full in order to provide better service to customers and allow them to use products and services without feeling cheated or misled.