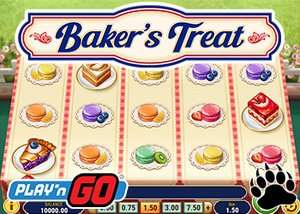 Play'n Go Casinos are always offering new and exciting games and with the new Baker's Treat slot, players will benefit from outstanding rewards and exciting bonus features.
This new slot game is one that will attract much attention as it offers high payouts while presenting affordable betting options. The game can be previewed in a free play mode and can then be enjoyed for real money bets on desktops and mobile devices.
Layout of the New Baker's Treat Slot
With the exciting new Baker's Treat Slot game, players will enjoy a traditional video slot layout. The game is played on five reels and these will contain various symbols to create the winning combinations. There are just 15 paylines used, so the game will be an affordable option for those who are playing for real money. Featuring a unique cake baking theme, this game is one that will appeal to many players and it will quickly become one of the many top Play'n Go casino games online.
All winning combinations will be created using the standard game symbols and they must appear on a payline starting at the left of the screen. The game may look like a simple slot, but as soon as players enter a Play'N Go Casino and start spinning, they will see that the New Baker's Treat slot is one that can lead to some amazing payouts.
Game Betting Options and Payouts
Those who wish to preview this game can do so by enjoying the free play demo version, which is offered at the highly recommended Bet365 Casino. Players will quickly want to start spinning for real money wins, and with this game, there are some great betting options. This video slot supports wagers that range from just $0.15 per spin all the way to $75 per spin, so it will fit nicely into casino budgets.
This video slot game is not linked to any progressive jackpot, but players can stand the chance to win a maximum payout of 5,000 coins. With base game combinations and the payouts earned from bonus features, which are described below, the New Baker's Treat Slot is one that will surely boost account balances and provide players with many chances to become a winner.
Exciting Bonus Features
The highlight of this game featured at Play'n Go Casinos is the unique Flour Power Spin features. There are five of these that will be triggered when getting certain high paying symbol tokens. These tokens will be earned when stacks of high paying icons land on the reels. The five features include the Cupcake Power, Blueberry Pie Power, Carrot Cake Power, Lemon Cheesecake Power and Strawberry Sponge Power features.
Each power feature offers something different. They all provide players with 3 free spins and will the offer other features like 2 reels with matching symbols, 1 wild reel for all spins, upgraded wilds, expanding wilds and converted symbols. Should players manage to land all five cakes on associated reels, they will trigger the other game bonus feature, the Bake Off.
With this bonus, players will get a spin from every Flour Power feature mentioned above and should any cake land as a stacked icon on a designated reel, a Bake Off Spin will be won and as many as 10 of these can be earned. This new and exciting game at Play'n Go Casinos is one that will definitely be a huge hit for any player seeking a unique themed game with great bonus features.