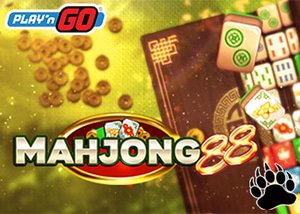 Get ready to enjoy a unique fusion between the oldest tile game and a modern video slot when you indulge in the latest slot creation from Play'n GO.
Mahjong is considered one of the most popular tile-based games in the world that were originally developed in China during the renowned Qing dynasty. Since its inception during the early 20th century, it has managed to spread across the world. The game is widely played in South Eastern and Eastern Asia and several Western countries as well. It's, therefore, no surprise that the renowned software developer decided to fuse this popular tile-based game with a modern online video slot packed with plenty of rewards and cash prizes to keep players intrigued.
The latest slot game from Play'n GO casino software is called Mahjong 88 and it features a truly unique 8x8 reel structure along with a plethora of Chinese inspired bonus features to make it even more attractive. This includes a Fortune Frog feature, a Super Charge feature, multipliers, and 4 different seasons with 4 separate wild symbols along with a top paying jackpot bonus worth 5,000 coins in the base game.
Mahjong 88 Slot Features
With a mesmerizing Chinese look and feel, the new Mahjong 88 slot from Play'n GO comes equipped with 8 reels and 8 rows where players will need to form clusters to unlock winning combinations. Clusters of 4 to 12 symbols can be formed vertically or horizontally. Should a player form a winning combination, the winning symbols in that cluster will be removed to make space for new symbols, allowing players to win even more. This feature is essentially known as Cluster Pays.
Players will also notice a concealed tile on the 8x8 grid which will be blank at first. These blank tiles will rotate to eventually reveal a secret adjacent symbol to assist in forming a winning combination. Located on the right-hand side of the reel structure is a Fortune Frog and all winning combinations formed on the reels will contribute to increasing the Fortune Frog meter which will eventually trigger the Fortune Frog feature. Players will be able to activate the Fortune Frog feature by fully charging the meter with a total of 33 winning symbols.
When there are no winning clusters formed on the reel set, players will trigger one of four effects, including Hope, Tongue, Spawn, and Croak. The Hope effect will randomly select one symbol to destroy and transform adjacent symbols. The Tongue effect will select 2 edges on the grid and the symbols that are displayed between the two edges will transform into a different symbol. The Spawn effect will choose one symbol and transform it into another symbol, and the Croak effect will select one symbol to reward players with a scattered payout instead of a cluster payout.
The Fortune Frog feature also has the ability to be overcharged when players fill the meter with 88 winning symbols or more. When this occurs, the Super Charge feature will be activated. During the Super Charge feature, all winning combinations will be subject to a 5x multiplier. Please keep in mind, however, that only one Super Charge and one Fortune Frog feature can be activated per spin sequence.
To make the new Mahjong 88 slot even more appealing, Play'n GO decided to add 4 seasons to the equation, including winter, autumn, summer, and spring. Each season comes with its very own wild symbol that will be activated whenever a player doesn't trigger a winning cluster on the reel set. The seasons will change at random every 25 to 99 spins. It's also worth mentioning that a Season Bonus will accumulate during play that will be paid out before the season changes.
When the Spring modifier is activated, players will receive 12 additional wild symbols that will appear in random positions on the grid. When the Summer modifier is activated, players will receive 5 additional wild symbols in random positions while adjacent symbols will be destroyed. When the Autumn modifier is activated, players will receive 11 additional wild symbols while symbols that are displayed next to the additional wilds will either be destroyed or transformed into more wild symbols. Finally, when the Winter modifier is activated, players will receive 4 additional sticky wild symbols that will remain in place for the duration of the round.
Betting Options and Symbols
The new Mahjong 88 slot not only boasts with an extraordinary selection of bonus features but also comes equipped with a fantastic variety of betting options to accommodate both high roller and newcomer alike. Players will be able to start their Chinese-inspired slot adventure from as little as $0.10 on a single spin or go for glory with a maximum of $100.00 on a single spin.
The Mahjong 88 slot offers an incredible selection of slot symbols that are all taken from the popular tile-based game. This includes 6 low-paying symbols that have each been numbered from 1 through to 6 as well as 4 high-paying symbols that are decorated with beautiful flower arrangements in various colours, including blue, red, yellow, and pink.
Where to Play the New Mahjong 88 Slot
The new Mahjong 88 slot is regarded as a high variance slot that provides a magnificent 96.62% return to player ratio. We assessed all Play'n GO casinos and highly recommend that you play Mahjong 88 at Nordic Slots Casino where you'll receive 100% welcome bonus up to $100 on your initial deposit.