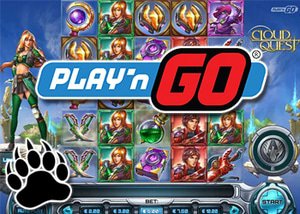 PlayN Go have released their latest free slot machine called Cloud Quest and it is something totally different. One thing's for sure, this game doesn't try to be like any of the others.
PlayN Go's developers choose a rather unusual setup for this new slot machine. It has the standard 5 reels but there are no paylines. Instead players have to rely on getting symbols lining up next to each other either vertically, horizontally, or diagonally.
The theme is fantasy inspired and will feature wizards, floating cities in the air, potion bottles, and even spell books. It really does look quite impressive when you take everything into account and PlayN Go really do seem to want to draw some attention to this latest offering. This is just one of the many they have released over the past 12 months and with each launch we are getting something new and different. The build up to these new games is bringing a lot of player anticipation and excitement too, so we know they are doing something right.
What We Love About The Cloud Quest Slot
First off, the graphics in this new slot machine are amazing. It seems as if this is becoming the norm for new slots no matter who the developers are. The graphics seem to be getting better and better with more and more innovation being put into the games. It looks like PlayN Go are really into innovation and they are not afraid to try something new like doing away with the old payline system.
The graphics in the Cloud Quest slot are based around wizard related items, or things that have a connection to the fantasy genre. The background features a large city made out of stone that seems to float in mid air. There are waterfall falling over the edge of this floating kingdom towards the ground too. A wizard on the left hand side of the screen in your constant companion in this game. The reels themselves are packed with related images and there are no playing cards.
With Cloud Quest you have to form combinations by landing a minimum of three symbols next to each other. The combo can be horizontal, vertical, or diagonal, and you get paid. The symbols which make up your winning combo will disappear so new ones can drop down and take their place forming even more winning combinations if you are lucky.
There is a bonus feature included in this free slots game too and when triggered it will give you free spins. During the free spins round a bonus area will move from one row of symbols to another and symbols from within the border which are part of your combinations will pay you more.
There is also a wild feature and it can really help you out when it makes an appearance. Use it to create even more winning combinations.
If you like the idea of playing a new slots game with no paylines and the chance to win big prizes in the bonus round then Cloud Quest is perfect. Give it a try and see how you get on today.