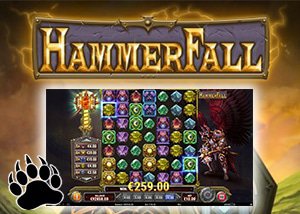 Join the Swedish power metal band at Casumo Casino while playing the new slot from Play'n GO, complete with Cascading Wins, a Super Tiles feature, Song features, and more.
Play'n Go have created some of the most captivating and entertaining video slots over the years and their latest slot creation is no exception. The slot is called Hammerfall and it's based on the Swedish power metal band, providing some high-octane action on both desktop and mobile devices. Players will get the opportunity to join Hector has he wields his massive hammer to unlock some truly phenomenal rewards and cash prizes.
The new Hammerfall slot from Play'n GO casino software comes equipped with 7 reels and 7 rows, while all winning combinations are created through the innovative Cluster Pays system. Players will also appreciate the fact that the new Hammerfall slot offers a plethora of bonus features, such as Hammerfall logo wild symbols, a Cascading Wins feature, a Super Tiles feature, Song features, a Hammer High feature, and Destruction features along with a top prize worth 30,000 times your bet size.
Hammerfall Bonus Features
The reel-spinning action unfolds at the top a giant castle with Hector, dressed in full golden armour, standing on the right-hand side of the 7x7 reel set wielding a powerful hammer. The game offers two wild symbols on the reels, including a lightning wild symbol and a red H wild symbol, substituting for all other symbols in the game.
Cluster Wins Feature
Apart from the wild symbols, you can take advantage of 10 bonus features to help out with huge winning opportunities. The Cascading Wins feature will come into play every time you form a cluster of five or more symbols on the reel set. Once the Cluster Wins feature is activated, all symbols that formed part of a winning combination will be removed from the grid to make room for new symbols that fall in from above. This creates new winning opportunities and will only end once there are no more winning combinations generated on the reel set.
Super Tiles Feature
When you start spinning the reels, you will notice that several slot symbols will be randomly highlighted by a blue hue, known as super tiles. When you generate a winning combination on a super tile, you will benefit from a lightning wild symbol that will generate on that position of the grid. The symbols that formed part of the win will be removed but the lightning wild symbol will remain in place for the following cascade. You will also notice that lightning wild symbols can offer a random multiplier value up to 3x. The multiplier value will be added to your following cascade when it forms part of a winning combination.
Song Features
On the left-hand side of the 7x7 reel set, you will notice a giant hammer along with a meter located below the hammer. You can charge this hammer by creating winning combinations and clusters. When you collect 25 winning symbols, the hammer meter will be fully charged, activating the Song feature in the game. There are a total of 3 Song features in the new Hammerfall slot, including the Twilight Princess Song feature, the Second to None Song feature, and the And Yet I Smile Song feature.
The Twilight Princess Sing feature will add a mega 2x2 wild symbol on the grid in a random position. The Second to None Sing feature will transform all high-paying symbols into a matching high-paying symbol. Should there be less than 5 high-paying symbols, the game will randomly select low-paying symbols and transform them into high-paying symbols. The Any Yes I Smile Song feature will destroy all low-paying symbols on the reel set.
Hammer High Feature
Should you be lucky enough the charge the hammer meter with 50 winning symbols, you'll unlock the Hammer High feature. Once this feature is unlocked, you'll receive 1 free spin where all three Song features are awarded consecutively. Once this feature is completed, you'll move onto a different world. There are three worlds in the game to make it more interesting during your gaming session.
Destruction Features
Should you have a non-winning spin in the new Hammerfall slot, you can benefit from 1 of 4 Destruction features. These features do not occur on every non-winning spin but come around quite often to assist you with a win. The Destruction features include the Never Forgive feature, the Bring It feature, the In One Against the World feature, and the Chain of Command feature.
The Never Forgive feature will select one symbol. All instances of the selected symbol will be pulled together and destroyed. The Bring It feature will destroy all high-paying symbols or transform them into a matching high-paying symbol. The In One Against the World feature will randomly select a symbol and all symbols next to the selected symbol will either be destroyed or transformed into the same symbol. The Chain of Command feature will create a chain of symbols that will either be destroyed or transformed into matching symbols.
Slot Symbols
The new Hammerfall slot from Play'n GO comes equipped with an assortment of slot symbols to help out with generating winning combinations. The most prized symbol on the reels is Hector himself, producing a top prize worth 1,000 times your stake when you form a cluster containing 15 Hector symbols.
You will also find a sun symbol, paying up to 250 times your stake, two hammers, paying up to 100 times your stake, and a green moon, paying up to 80 times your stake when 15 matching symbols form part of a cluster, respectively. The low-paying symbols are all made up of gemstones, including a bronze gemstone, yellow gemstone, blue gemstone, purple gemstone, and green gemstone.
Betting Possibilities
Once you've familiarized yourself with the 10 bonus features and the wide range of slot symbols and payouts, you can make your way to the control panel to set your preferred bet amount. The game offers 15 different coin denominations to suit your bankroll. The smallest bet is only $0.20 to set the reels in motion, while the biggest bet is $100.00 to accommodate high rollers looking for some truly astonishing winning opportunities.
You will also benefit from a wide selection of additional features in this new Play'n GO slot, including a Turbo Mode feature that will speed up each spin you initiate, an Autoplay feature that will give you the ability to pre-select a number of spins to play out automatically, and the option to enable/disable the sound effects of the game.
Where to Play the new Hammerfall Slot
Play'n GO's new Hammerfall slot provides a return to player ratio of 96.20% and is a high variance slot where you'll need to play for a while before huge winning opportunities come your way. To increase your chances of winning, we recommend that you play the new Hammerfall slot at Casumo Casino as newcomers are welcomed by a 100% match bonus up to $1,800 along with 20 free spins on the Jamming Jars slot.