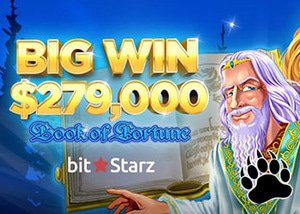 BitStarz Casino is known for its extensive library of exciting slots, but that is just a start of what is in store for players in 2018. 2017 saw many big wins awarded to those who play frequently at the casino and 2018 is only expected to get better with the addition of new games.
Witches, wizards and big prizes
When you look at the list of Amatic games, one thing that becomes abundantly clear is that many of their slots offer a high level of volatility. While for some that may present a challenge, but for many others, it equates big wins and it is not hard to see what Amatic games quickly rise to the top played games at casinos like BitStars. One of their most popular is Book of Fortune, a 5 reel, 10 payline slot that offers a magical spell of fortune for many players.
Book of Fortune Bonus Features
One thing that becomes noticeable when playing Book of Fortune is the large payouts is winning symbol combinations offered. One Russian player understood that perfectly and was able to win like few others have and walked away with a very cool 19.2 BTC or about $300,000 from a single spin win. You may be asking yourself how this player managed such an impressive win? Book of Fortune can return wins up to 1000x and is it safe to say, this Russian player understood that and his New Year's Eve luck came through with plenty of good cheer!
The cash keep flowing at BitStars Casino
If magic themed slots are not your cup of tea, Book of Fortune is just one of the many Amatic slots that can be played at BitStarz Casino. There are plenty of action-packed slots offering up to 1,000x the bet wins, and you will never be without an exciting slot to play. You can look forward to exciting titles such as Aztec Magic, Starburst, Wolf Gold, Dragon Kingdom, and Eye of Ra and loads more keep the energy rolling non-stop.
Bitstarz Casino is never without bonuses and prizes. The latest win was wonderful news for the team at BitStarz Casino, but as history has shown, 2018 is sure to continue with the big wins. The only question is: who will be the next six-figure winner?