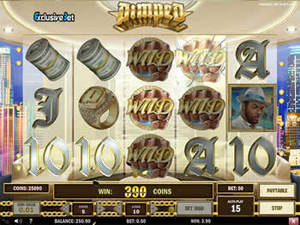 Play N Go's new Pimped slot showcases a flashy urban theme that centers around hustlers, pimps and tons of gangster bling.
In the online slots world, innovation is king over everything. Play N Go knows this because they have had to use their levels of innovation as the basis for competing with much larger companies for quite some time. Their success shows that this strategy has worked so far, and they've employed it again with a new release.
The Pimped slot is based around a flashy, urban-centric theme with pimps, hustlers and blinged-out gangsters. You'll see tons of flashy jewelry, wads of cash, caviar and wild brass knuckles in this game as well as numerous smooth players of the pimp variety. Multipliers are a key aspect of gameplay when you hit free spins by picking up at least three of the dollar signs on the reels. While this is an atypical theme for an online slot, it's backed up by excellent gameplay, so it's sure to be a hit with a lot of different types of players.
The bonus feature is set up in a way that really sets it apart. With what they're calling the "Win Spins" feature, you'll be promised a minimum of one winning combination. What this means is that you'll never have to worry about triggering the bonus and then getting nothing for it which is a major step in the right direction towards giving players reasons to keep coming back for more.
If you're looking to play this new Pimped slot, then Exclusive Bet is a good choice. They offer a 100 percent sign-up bonus worth up to $150 in addition to other promotions that you can use to play this new game. Unibet Casino is another good option with a 100 percent sign-up bonus worth as much as $100. These are two top online casinos for Canadian players, and they both use the Play N Go software in addition to software from other providers to give you an overwhelming selection of slots. Overall, players should definitely check out this new game because it's so different and atypical while offering excellent overall gameplay.