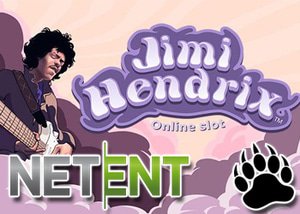 2016 has been a revelation so far in launching new slot games for NetEnt, with the Guns N' Roses video slot being the most successful in their history to date.
Now players can head on over to the Wild Sultan Casino as from April 21 2016 as the gaming company keep on rocking with the launch of their brand new Jimi Hendrix Online Slot.
First announced at the ICE Totally Gaming 2016, the Jimi Hendrix online slot from the innovative NetEnt Rock series is just a few days away from hitting the game waves, and what a splash it's destined to make. On top of that it looks set to be followed by a September launch later this year of the Motörhead online slot, completing a trilogy of Rock games unlike anything else seen before in gaming, it's truly time to rock your world!
A Game Fit For A Legend With 10 Different Morph Targets
With its 10 different morph targets particular to 3D animation, this Jimmy Hendrix online slot creates numerous different facial expressions of this instantly recognizable larger than life musical icon. The animated video game comes in eye catching 3D that includes vibrant animations and stunning graphics that capture added realism, which one can only imagine the artist would be immensely proud of.
Regarded by many as one of the most influential and creative musicians of his era, Hendrix rose to prominence in the late '60's when he released his 3 studio albums Electric Ladybird, Bold As Love and Are You Experienced.
Fans will be delighted to hear the game is accompanied by five of Hendrix's best known tracks such as "Little Wing", "Crosstown Traffic", "Foxy Lady" and "Purple Haze" and includes rich multi-colored 3D graphics inspired by this particular psychedelic era, that was rampant during this period of musical innovation and change.
Chief Product Officer for NetEnt Simon Hammon, spoke of what an honor and huge responsibility it was to be granted the rights to create this Jimi Hendrix branded product and work hand in hand with the Hendrix family and their companies to make such a desirable offering.
CEO and president of Experience Hendrix L.L.C. Janie L. Hendrix enthused over the pride in the role that they still play in promoting Hendrix's persona and art.
With regards to the Jimi Hendrix online slot she went on to say: "Because of that, we are extremely selective in who we partner with. NetEnt, we feel, has an understanding of the importance and we're thrilled to work with them. The prospects are exciting!"