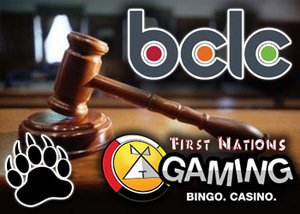 BCLC is making the news today and it is not in a good way. The British Columbia Lottery Corporation is being sued by casino and gaming developer Pinnacle Gaming Solutions. This gaming developer claims they were led on by BCLC regarding the possibility of opening gaming facilities on North Shore which has been awarded exclusively to another company.
Pinnacle Gaming Solutions, owned by David Moretto from North Vancouver, filed a lawsuit on the 8th of January. He stated that this company was retained by several First Nations, including the Tsleil-Waututh, in October 2007 to help with the "prospect of developing gaming facilities on their lands."
According to a North Shore News report, Moretto and the Tsleil-Waututh had an agreement where Pinnacle would be their agent in developing a casino on the land. Pinnacle's responsibilities included talking to BCLC and going through all the necessary processes for licensing. If the development was a success, Pinnacle would receive a percentage of the casino's gross revenues.
From 2008 through 2015, representatives from Pinnacle met with their BCLC counterparts, which included BCLC presidents Michael Graydon and Jim Lightbody, to talk about the gaming facilities project for the First Nations.
Pinnacle have stated that there were given the impression from BCLC that there was a very high chance of approval for a BC casino application, especially considering both parties had concluded that the proposed gaming facilities had proven the potential to generate profits for the region.
North Shore News have also quoted Pinnacle as saying, "BCLC was particularly in favour of the proposed gaming facility on Tsleil-Waututh lands as there were no casino or gaming facilities on the North Shore and no other gaming facilities proposed for the North Shore."
In April last year, however, Pinnacle discovered that the British Columbia Lottery Corporation had granted Playtime Gaming Centres, the exclusive right to develop a gambling facility on the North Shore.
In their lawsuit Pinnacle said, "BCLC improperly and unlawfully granted Mr. Tom Nellis and Playtime Gaming the exclusive right to develop a gaming facility on the North Shore in or about 2009 and failed to disclose that fact to Pinnacle despite years of negotiations with Pinnacle."
Pinnacle is now seeking general, special, aggravated, and punitive damages, claiming that they have incurred "substantial financial losses" during the course of the representations made to BCLC.