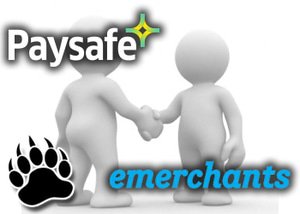 Paysafe Group has teamed up with payment technology company Emerchants to create a pay out card solution that will mean instant access to winnings.
Paysafe Group, the company behind the PaySafeCard banking option available at most top online casinos, announced their new agreement with the payment solutions company Emerchants earlier this week. The two companies have come together to offer a number of payout card solutions for the iGaming industry in Europe. These solutions are white-labeled prepaid payment resolutions and look set to change things quite a bit in the online gambling industry.
The result of these two companies working together will see operators being able to offer their players instant access to their winnings. There will be no need to wait for up to 5 business days and sometimes even more to get your hands on your winnings. Once you withdraw them from your casino account, you will receive them instantly. Any player who purchases one of the prepaid cards will be able to use it anywhere; online, in-store, to transfer funds into their gambling accounts, or use it to withdraw cash at any ATM.
Stuart Green, the Managing Director of Emerchants Europe had this to say about the new payout card solutions: "A quicker, easier pay-out experience increases consumer engagement which in turn boosts customer loyalty and retention. We are therefore delighted to be working with Paysafe as the leading payments provider in the gaming space."
Andrea Dunlop, the CEO of Card Solutions and Acquiring at Paysafe added in response to Green's comments, "Emerchants has strong credentials and extensive experience of managing gaming programs. The combination of our technology creates an incredibly powerful offer for gaming operators."
Paysafe is an online payment solutions gateway that is used throughout the online gambling industry. PaySafeCard casinos are sought after by online gamblers because they offer convenience, flexibility, and reliability. Paysafe process millions of transactions around the world and they are always looking for ways to further enhance, and grow, their relationship between players and gaming operators. This new joint venture with Emerchants can really help to do this and with instant access to winnings, it is going to be a winning solution for online gamblers.