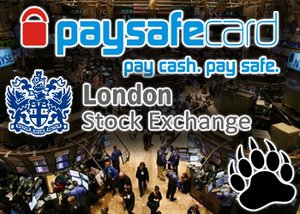 Formerly known as Optimal Payments, global online payments provider the Paysafe Group announced their admission and entrance to the London Stock Exchange.
This week Paysafe Group PLC will list their shares on the premium sector of the LSE's main market. On Friday Dec 18, a spokesperson for the company said that there are no funds being raised or issued with ordinary shares along with the Admission.
Earlier Skrill Acquisition Makes For Solid Platform
The company stated that with the completion of their acquisition of Skrill earlier in August 2015, they now have a solid platform in place for the move. The company's board also considers that with admission to the LSE's Official List, the companies profile will be increased and will assist in the liquidity of their shares, at the same time "providing a greater range of potential investors for the company".
It is currently expected that the Admission will become immediately effective and that all dealings regarding Paysafe shares on the main market, will get underway on December 23, 2015 at 8am.
The company also stated that no shares have been marketed or offered to the public either in the United Kingdom or anywhere else in association with the publication of the Prospectus or Admission.
Following the move to the main markets completion, the shares of the company are fully expected to be eligible to be included in the London Stock Exchange FTSE 250 index, during the March 2016 Quarterly Review.
The TIDM code for the company on the London Stock Exchange will remain as 'PAYS' with its ISIN being GB0034264548, and then on Admission it is fully expected that there will then be 479,606,395 regular shares in issue.
Trading of Paysafe shares on the London Stock Exchange's AIM market will be cancelled on Wednesday December 23, 2015 with effect from 8.00 a.m. GMT. The announcement comes after some two months of their recent launch in Saudi Arabia and having already entered the Kuwait Market.
The Paysafe Group have opened up their services to in excess of 1000 different sales outlets. These are spread between petrol stations supermarkets and shops, which in total cater to more than 28 million people of the population. PaySafeCard casinos are also widely available.