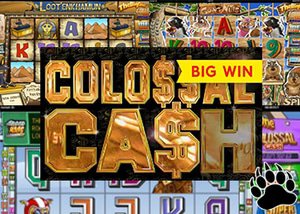 The Big One Colossal Jackpot was hit this past weekend by a lucky player enjoying slot action at Party Casino. This great jackpot game offers the chance to win multiple jackpots and a player had a stroke of luck when the Colossal Jackpot was awarded.
The cash prize collected was $3,290,051. This multi-million dollar win is one of the largest jackpots at Party Casino to date, but certainly won't be the last as more and more players flock to casino sites for a shot at instant riches.
Big One Colossal Jackpot Winnings
Over the years, this video slot game has attracted thousands of players who are looking for massive wins from a single spin on an exciting game. This latest jackpot win at Party Casino was the 12th win recorded on the game. Many players have enjoyed smaller paying jackpots from this game, but with a $3 million win, this lucky player is one of the top winners. In 2013, the Big One Colossal Jackpot was won for $7.5 million, which was the largest jackpot win in the history of Party Casino. This jackpot can only be won at this casino site, which is why it is one of the most played jackpot games featured.
Big One Colossal Jackpot Game Variations
The Big One Colossal Jackpot is offered on 9 different video slot games that are featured at Party Casino. These games are exclusive to the site and offer players the chance to win one of five progressive jackpots, including the Blitz, Quick, Super Cash, Mega Cash and Colossal Cash. With different game titles available, players will have some great chances to hit it big at Party Casino while enjoying a well-designed game that can offer great base payouts as well. Those interested in becoming the next Big One Colossal Jackpot winner should take some spins on any of the following games: Luck of the Jackpot, Loot En Khamun, Melon Madness, Melon Madness Deluxe, Space Venture, The Weather Man, Snow Business, Going Nuts or Road Hogs. This latest win for $3.5 million was collected while playing the Going Nuts video slot game.
How to Hit the Jackpots
When players place wagers on any of these games, a small portion of that amount will be added to the jackpot and the house also adds a small amount. Any of the five Big One Jackpots can be won without getting any specific winning combination as these are random jackpot games. Players who place larger real money bets will have increased chances of winning a jackpot. Unlike many other video slots that feature progressives, these jackpots can be won following any spin on the game. Players do not need to trigger bonus rounds or watch for certain symbols. Every spin will provide the chance to win a life-altering amount.
When a jackpot is won, a message will appear on the ticker beneath the reels. The main screen will then become a jackpot screen and all jackpots and their corresponding payouts are listed. A wheel will be seen on the right of the screen and this will spin to indicate which of the jackpots have been won. The great thing about the Big One Colossal Jackpot games is that more than one jackpot can be won at the same time, so there are truly great chances to become an instant millionaire at Party Casino.