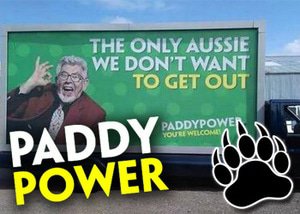 Paddy Power has gotten themselves in trouble for offensive advertisements in the past, and they've probably done it again in Australia.
Rolf Harris was an Australian television host who is also a convicted sex offender. He was on a Paddy Power billboard with the slogan, "The only Aussie we don't want to get out." This is in reference for the match between England and Australia for cricket, and it's a message that a lot of people are getting up in arms over.
Interesting Circumstances for Paddy Power
What's really important to note about this instance is that it's not an advertisement that they actually ran. Instead, a picture was leaked of the ad on the Internet, and it's not clear if Paddy Power was going to use the ad itself or not. What is certain, however, is that a whole lot of people are angry about it on the Internet. The narrative here is that Paddy Power has went too far yet again.
A History of Pressing the Envelope
In our list of the top ten largest online gambling companies, Paddy Power was listed as number two. We also noted that they set the record for the most complaints to the Advertising Standards Authority for a whooping 5,525 complaints last year for an ad related to the Oscar Pistorius trial. They had a bet available for the verdict with the tag line, "Money back if he walks." For those who don't know, Pistorius is confined to a wheelchair.
The Largest Irish Bookmaker
Paddy Power is known for handling all different types of online gambling services, and this includes poker and online casino offerings. They're worth almost $4 billion, and they really know what they're doing when it comes to self-promotion. However, they often pass over into the offensive, and they do it often enough that it's clear that they're doing it on purpose. It's unlikely that there will be formal complaints like there were in 2014 because the ad itself was not actually used, but it just goes to show that they always have something that could come out that would get your attention.