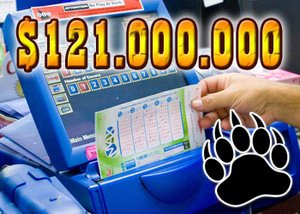 The weekend could be a very memorable and a special occasion in Canadian Lottery history. Two jackpots presented residents the chance to gamble on Ontario's biggest lotto jackpot ever, a whopping $121 Million in total prizes, and an amount that could be reasonably expected to change the life of a few lucky people if so happening to hold a lucky ticket.
You Gotta Be In It To Win It!
It is not an everyday occurrence where two of Canada's national lottery games both the LOTTO 6/49 and the LOTTO MAX both offer such huge jackpots, both at the same time.
It was a weekend that potentially offered something so historic as to attract even the most hardened sceptic to pull out their wallet and flash the cash in the hope of Gambling on Ontario's Biggest Lotto Jackpot and maybe scooping one of the record breaking prizes.
Since the LOTTO MAX launch in September 2009, players have won 41 Jackpot wins totalling $2billion in prizes across the province with 253 lucky winners.
LOTTO 6/49 out of 218 Guaranteed $1m Prize Draws, have had 91 of all winning tickets sold in Ontario.
All It Takes Is A Dollar And A Dream!
Now the big event has passed and some folks are now celebrating their newly found elitist status, regular players will continue with their weekly ritual, in the hope one day it may be them. That's what it is all about, right?
Heck it doesn't have to all be down to gambling on Ontario's biggest Lotto jackpot! After all, who wouldn't settle for something far smaller?
It wouldn't need to be a double digit million dollar win to change most people's lives. A solitary single digit win would do quite nicely.
Let's not forget, the great big build up to such an anticipated win, week after week. The fun, the excitement, the drama, the anticipation and the expectation is a big part of what playing either lottery is really all about.
Lottery folks as always just move on. They truly know, it's not just about the destination, oh no, it's all about the journey.
It's everything that comes ahead and in between of that solitary climactic moment when winning numbers are flashed on the screens. At the end of the day, there is always next week, life will continue. Best enjoy the good times that are already here, the weekend will soon be back again.