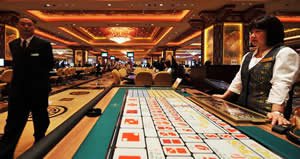 Private equity investments in casinos in Canada have increased over the year and the most exciting private equity investment in gaming is the Ontario Teacher's Pension Plan's second investment in Louis XIII Holdings.
Louis XIII Holdings is a Macau based casino developer and this private equity investment will result in the OTPP having a 7% ownership interest. The Ontario Teacher's Pension Plan Board agreed to subscribe to US$38.7 million worth of convertible bonds that can be turned into shares. These convertible bonds have a zero coupon and a maturity date of February 5, 2025. Upon full conversion, an additional 148.2 million new shares will be issued to the OTPP.
Louis XIII Holdings is building a $1 billion casino, hotel and retail complex in Macau. This proposed development will be a tribute to the lavish lifestyle of the French King Louis XIII.
Now while this all sounds amazing and very promising for the OTPP and the Ontario government, there are some issues that still need to be addressed. Macau's gambling legal regime needs to become compliant with international anti-money laundering and counter-terrorist financing laws or there could be a lot of problems. The OTPP is a fund that has been established and administered in part by the Ontario government and the investment in the Macau casino could become a matter of concern on a number of fronts when the casino opens if these issues haven't been rectified.
The reason for this concern relates to the fact casinos in Macau are a significant crime risk. They operate with the help of junkets. This is all legal in China and it is known that 75% of the annual $38 billion in gambling revenues from Macau's casinos are from VIP Rooms run by junkets. Junket operators have ties to organized crime and this has been confirmed by Macau's Gaming Inspection and Corruption Bureau.
Money laundering is a major issue and this is totally illegal in Canada and could pose a major problem for this investment. A U.S. Congressional Commission found that the casino industry in Macau was tied to widespread corruption and money laundering. Government experts have said it is a "cesspool of financial crime" Macau is being urged to implement anti-money laundering controls.
The OTPP investment demonstrates that when it comes to private equity and the gaming industry, such as the casino investment in Macau, the preservation of integrity works both ways. It can involve protecting the funds investors as well as involving gaming regulators protecting the industry as a whole. The OTPP has been playing in the private equity field since 2001. They have bought large stakes in large companies whose shares didn't trade on any stock market and they have had some huge successes. In 2013, OTPP came under controversy when Cadillac Fairview, their property arm, struck up a partnership with MGM Resorts International, in an ultimately unsuccessful bid to develop a casino in Toronto.
Construction of this casino resort, which is located on the Cotai-Coloane borderr, should be completed by the second quarter of 2016.