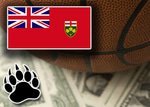 Ontario sports betting is getting a boost as the provincial legal gambling monopoly, Ontario Lottery and Gaming Corp (OLG), has announced that its Proline sports lottery will offer NBA games starting with the 2016-17 season.
The intention of online gambling operators is to give their bettors a fair chance at winning while still making a profit doing it. The business of sports betting in Canada is one of the most popular types of gambling activities and this is true around the world. Sports betting, as well as online gambling in Canad,a is under the control of the different provincial governments. In Canada, it is prohibited by federal law to make bets on a single sporting event and all legal casinos in Canada must adhere to this.
Canada's federal parliamentarians will be returning to Ottawa, and a bill to repeal the single-game betting prohibition is once again on the agenda. Bill C-221, if passed, will amend the current law that restricts sports betting in the country. Unfortunately, many feel that it is unlikely to make it through the political hoops required for the legislation to be changed. Sports organizations such as the NBA, NFL, and the NHL presented opposition to Canadian politicians saying that allowing for single games wagers would open up sports to corruption and fraud.
With the OLG's announcement to allow NBA proline games on their PlayNow online gambling site, will things change? Greg McKenzie, OLG COO said he was "thrilled" to be able to offer sports betters "even more choices for a better gaming experience."
When it comes to betting on sports in Canada, most punters know that when they go online to place bets, the offering by the OLG's Ontario online casino are less than satisfactory and this is the reason why many seek out international online gambling sites to place their bets on over OLG's Playnow. They get better odds and they can place wagers on single matches. The parlay rule is not in place at international sportsbooks and this can often be the draw the pulls Canadian gamblers to their sites.
With Ontario Sports Betting, legal BC casino PlayNow is looking to make some changes, and adding NBA proline games could be just the thing. Lobbying back in 1995 was effective for the NBA, which dropped NBA games the same year the Toronto Raptors expansion franchise began players. The NBA also held the British Columbia Lottery Corp's feet to the fire and purged NBA games from Pro-Line when the Vancouver Grizzlies joined the league. 21 years later, the hope for a change in the law is slim at best with the current majority government voicing opposition to the change.
We still have a bit longer to wait to see what the fate of Bill C-221 is and as soon as the outcome is revealed, we'll be sure to report on it.