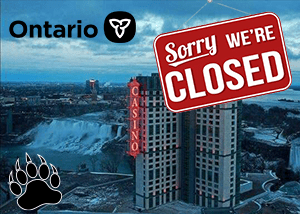 Over the last two years, the world has been hit by the most serious pandemic in over one hundred years. For many decades, scientists have been urging governments to be prepared for such kinds of events; however, the world couldn't have been prepared for the Covid-19. During this pandemic, most businesses have adjusted accordingly and moved online to try and stay afloat, while others couldn't take the hits, which seem to keep on coming.
Gambling is a multi-billion dollar global enterprise, and in Canadas' Ontario province, it's mostly offered in brick and mortar casinos, bingo halls, racetracks, and lotteries. Most of the Ontario casinos closed down when Covid hit or had their operations curtailed in some way. As a result, many folks lost their livelihoods but thanks to the discovery of a vaccine, things started to look up some time in 2021 as betting houses started to open up.
While the vaccine has played a very big role in curbing the spread of the respiratory disease, the virus keep mutating making it a bit tricky to contain - and now the spread of the Omicron, which is the latest variant of Covid has set back the Canadian province of Ontario to step two of its reopening roadmap that includes temporary closing Ontario casinos as well as gaming centers.
Ontario Casinos Closing Operations as of 5th January
The closing of legal casinos in Ontario will be supervised by the Ontario Lottery and Gaming Corporation (OLG). The press release explained that OLG is working closely with service providers across the province as well as charitable gaming service providers to ensure a harmonized temporary shutdown of operations.
The Ontario casinos closing decree will affect several operators in the region, including Casino Niagara, Fallsview Casino Resort, Gateway Casinos in Woodstock and London, and Caesars Windsor. These are just a few of the 28 OLG betting venues that will be shut down until at least the 26th of January 2022 as a caution to curb the surging Omicron Covid Variant.
The OLG Prize Center Remains Operational
While Ontario casinos are closing down, the OLG Prize centers in Toronto will remain open to be able to pay out lottery prizes to winners, though by appointment basis only - lottery tickets will be available for those who want to keep playing. All winners with prize claims ranging from $1,000 to $49,000 are urged to submit these online or via mail.
On the same note, Tony Bitonti, the director, of External Communications at OLG, said that those who wish to have the casino experience at the comfort of their homes are welcome to use the virtual table games offered by OLG - the feature was launched at the beginning of this year.
Latest Public Health Measures
Amid Ontario casinos closing and Canadians shifting towards online casinos, the local authority introduced a few restrictions to further stem the spread of the new Covid variant. Here is a look at the new health measures expected to remain in place until the 26th of January 2022:
Events venues for indoor meetings must be shut down with some exceptions, while outdoor spaces are free to operate with strict restrictions.
Organized indoor public events are limited to a max of 5 people.
Social gatherings should have a maximum of 5 people indoors and a maximum of 10 people outdoors.
Indoor funerals, weddings, ceremonies, religious services are limited to 50% room capacity.
Outdoor gatherings are limited to the number of attendees that can maintain a physical distance of at least two meters.