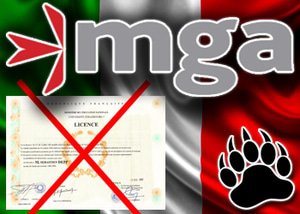 In the wake of Italian Police law enforcement action last week against the Malta licensed online casino Betuniq, there has now been more online gambling licenses suspended in Malta.
The gambling regulator of Malta the MGA announced the suspension of Fenplay Ltd.'s operating licence whose director Vincenzo Giuliano was one of 28 Italian businessmen detained in last week's betting operation swoop by Italian police linked to the Ndrangheta crime family.
The Malta Gaming Authority at the same time also issued suspension notices to other licensees Alibaba Casino Ltd., Soft Casino Ltd., and Soft Bet Ltd.
This is in addition to last week's Italian police's investigation into illegal activities of other Malta-based companies, Uniq Shopping Ltd., Uniq Group Ltd., Betsolution4u, Tebaral Trading Ltd, Tebaral Holding Ltd., and Fast Run Ltd.
The Uniq Group Ltd. and Betsolution4u who both held Maltese gaming operator licenses, have been in business for a while and have both been operating on the island of Malta now since 2011.
The gambling companies were all ordered by the MGA to indefinitely suspend all of their gaming operations, and also all transactions that include withdrawals, deposits along with accepting registration of new players.
The MGA stated "This is further to investigations and arrests carried out by the Italian law enforcement authorities in collaboration with the Maltese police," It added that it is fully behind and supportive of all relevant authorities in maintaining that the law is upheld.
It wished to ensure Malta's reputation as a gaming jurisdiction of distinction and excellence continues and continues to be free from crimes such as money laundering. They have also been in touch and alerted other counterpart regulators about the case who reside in other EU jurisdictions.
The affected websites were also further ordered to submit all documentation and data as requested by the Authority.
Advice For Current Account Holders Offered - Steps To Take
All players who may be affected with current funds already lodged with the companies have been requested to get in touch with the MGA at support.mga@mga.org.mt.
They will need to provide verification information including name and address, their phone details, date of birth also a copy of any ID held, including their passport as well as a screenshot of their account balance including their user name and any pending cash-outs.
Is History Repeating - Is There A Precedent?
One would imagine this would be standard procedure with more gambling licenses suspended in Malta, however at this time no reference was made as to how this would specifically impact players who were already holding money with the companies.
One can look back in the past as to how national and global customers were dealt with in 2006 by the American Government when online gambling was made illegal. Also as to what many of the players had to do to claw back any funds that they currently had in their gaming accounts at the time.
One would want to look at how successful in removing any of these funds that up to this point had been readily available cash at their disposal, and also how long they were required to wait for their money and complete restitution made, if indeed it ever was.
As far as any impending winnings would have been concerned, especially jackpot ones that would surely be too painful to contemplate.
It would serve no benefit at all, not if one wanted to preserve their sanity.
Many will surely remember the scenario of everything in their gaming account operating normal one moment only to find the next moment all funds becoming frozen. However although a totally different scenario here with the Government of Malta, this particular story now takes an unexpected turn.
Allegations of Impropriety Rejected by Former Maltese Prime Minister's Son
Former Prime Minister of Malta Lawrence Gonzi's son David Gonzi defended his role in the ownership arrangement of the Malta based gaming companies and any links to the alleged Italian crime circle.
Gonzi was recorded as a 33% shareholder in Malta based GVM Holdings who provided fiduciary services to those companies implicated in the current Italian clampdown.
David Gonzi issued a statement within which he said that the Malta Gaming Authority had conducted "extensive and rigorous due diligence processes" in determining the beneficial owners identities of the Betuniq online gaming operation.
He went on to say that GVM also had conducted their own due diligence process and had ultimately determined things were in order and that the beneficial owners of the company "were of good standing."
This was in stark contrast to the Italian authorities viewpoint who claimed Gonzi had vested interests, since he was "located at the summit of the pyramid structure" of all these Malta-based gaming companies who were connected with this gang's alleged money laundering scheme. This they said he should be strongly condemned for.
Murky Waters & Trying To Get To The Truth
They agreed that the matter requires further investigation however they still found it "plausible to situate Gonzi right at the center of an international criminal business triangulation network."
With more gambling licenses suspended in Malta, Gonzi did not accept the findings of the Italian authorities. He claimed that their dossier was full of holes in so far as it was factually incorrect.
It did not recognize GVM's role as a fiduciary company which by nature is a company that manages assets for the benefit solely of the benefactors and not for the fiduciary company's own personal gain.
He said that one would expect their dossier's assertions to be "backed up by some sort of evidence" however this did not appear to be the case. "Obviously there is none."
Italy's CTD's Future Looks Gloomy - Now Cast In Doubt
In Italy, Betuniq had a comprehensive operation of approximately 1500 different retail outlets known as data transmission centers or CTD's. These are essentially internet cafes and offer online access to computer locations connected up to overseas online gaming sites.
These CTDs were at the crux of UK gaming operator Stanleybet and their European Commission legal challenges targeted at Italian gaming law. The CTD's appear to operate in a somewhat legal grey area, however until now Italian gaming authorities have resisted the urge to put their foot down on their operations.
Since all of the Betuniq CTDs have been forced to close, it now remains to be seen if Italian authorities will now move ahead with other CTD operators and follow up with this continued course of action. However with the lack of substantive wrongdoing as with alleged money laundering, one can only wonder what direction their official stance will now take, if any.