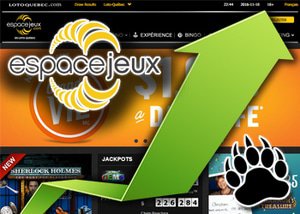 Quebec's provincial online gambling site Espace Jeux casino has reported online revenue increases for the first half of the fiscal year.
Loto-Quebec reported online revenue rising nearly one quarter in the first half of its fiscal year. Revenue of C$1.75b was made in the six months ending September 26 which is essentially flat from the same period last year. Tighter control over expenses has however allowed profit to rise to C$639m which is a 3.5% increase.
Loto-Quebec's lottery revenue fell 2.3% to C$852.6m which is partly due to fewer major jackpots being offered. Land-based casino revenue rose nearly 5% to C$421.4m which is due to "vigorous tourism trade", which may have been spurred on by the weakness of the Canadian dollar versus the US dollar. Gaming halls also reported a 1% rise in revenue to C$491m.
Quebec online casino Espace Jeux saw a rise of 24% to C$35.2m. This online gambling site celebrates its sixth birthday at the start of December and has outpaced all other verticals putting it on pace to break the previous fiscal year's total online revenue of C$66.2m. Loto-Quebec has credited the ongoing gaming of the Espace Jeux casino to a wider variety of gaming options and efforts to enhance the customer experience.
Quebec's ISPs to Block International Domains
Espace Jeux casino came up for discussion during the 2016 Canadian ISP Summit where Quebec-based internet service providers had harsh words for the provincial government's plan to implement a law that will require ISPs to block the domains of internationally licensed online casinos. This is Quebec's way of ensuring that Espacejeux doesn't have any online rivals.
In September, the Canadian Radio-Television and Telecommunications Commission (CRTC) stated that the IP blocking plan that Quebec wishes to enforce is illegal. Last week, former CRTC commissioner Tim Denton said the plan was, "A downright stupid approach to managing [Loto-Quebec's] gambling monopoly." He went on to say that Quebec's plan "will impose significant costs on ISPs and is likely to be technically futile, but they don't know that yet."
If the IP block plan does go ahead there could be further implications ahead as has been reported in Russia last week. Russia's Roskomnadzor watchdog agency has been the most aggressive in blocking online gambling domains. They block hundreds of domains on a weekly basis and they block 716 domain in the first week of November alone.
The ineffectuality of this crackdown came to light this week via a public announcement from Russia's Federal Tax Service, warning the public to stay away from unauthorized "mirror" sites. Mirror sites pop up all the time that are a slightly altered domain that gambling operators launch once their primary site has been blocked.
If this happens in Quebec, there could be a lot more work for the government to carry out.