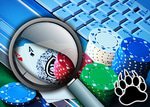 An online casino inquiry is underway by the Competition and Markets Authority (CMA) to look at legal online gambling and casinos cheating customers which could see a number of gambling firms face investigation.
In Britain alone, the online gambling industry has grown by 146% since 2009. Today over 5.5 million people log into to sports betting, and casino websites regularly. The competition regulator has stated that online gambling companies that refuse to pay out or those who are preventing players from cashing out their winnings will be facing an investigation.
An inquiry headed by the CMA, following complaints from customers, will look at the terms and conditions of online casinos to see if they are unfair. Online gamblers have claimed that casinos are using the fine print to disqualify certain games, alter the odds on successful bets, and place unfair restrictions on winning accounts.
Senior Director for Consumer Enforcement at the CMA, Nisha Arora, said, "Gambling is by its nature a risk but it certainly shouldn't be a con. We're worried players are losing out because gambling sites are making it too difficult for them to understand the terms on which they're playing, and may not be giving them a fair deal. We've heard worrying complaints suggesting people may be lured into signing up for promotions with little chance of winning because of unfair and complex conditions. We are now investigating to see whether firms are breaking the law."
Gambling Commission Chief Executive, Sarah Harrison, said, Gambling is always going to involve risk but customers must have faith that if they win, they will not end up feeling that the deck is stacked against them because of an obscure condition that they did not properly understand."
The Remote Gambling Association, which represents the legal online gambling industry has stated that it will co-operate fully with the CMS investigation. All legal online gambling companies have been issued with notices to request that they give evidence but the Remote Gambling Association has stated that there is no reason to believe that there are widespread failings among its members.
Justice4Punters Welcomes Decision to Investigate Legal Online Gambling
Brian Chappell, founder of the campaign group Justice4Punters has welcomed the decision to investigate these claims. He said, "It is absolutely essential because if you go and read any terms and conditions that any big corporate bookmakers are using, they are an absolute scandal." He went on to cite examples of bookmakers changing odds after a bet had been won and how they claimed the customer had breached their terms and conditions so the payout was smaller.
Other examples given included a man who was allowed to add £7,000 to his gambling account over a short period of time without the need for any additional checks. However, once his luck changed and he began to win thousands, his account was restricted and he was not allowed to wager more money or have access to any promotions. He ended his statement saying, "The whole thing has gotten out of control because they redefined what gambling means."
We have yet to see the outcome of this investigation in the UK and whether or not it will spread throughout the online gambling industry. Legal online gambling in Canada is explained in full on our website.