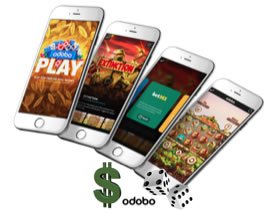 Players of mobile casino games will have an easier time finding and trying out games to decide what their favourites are, thanks to the new iOS app from Odobo.
Odobo Play has been proudly called out as a 'game changer' by Ashley Lang, the founder and CEO of Odobo. He says, "it offers great casino content from multiple leading studios and the choice of free or real-money play with the world's leading operators." The app allows players to browse through the offerings of different mobile casino operators through the use of screenshots and digital information cards which allow users to quickly peruse available games and make a selection.
While the app is only available for iOS powered devices at the moment, the possibility of expansion onto other platforms, such as Android tablets and mobile phones, are not out of the question. The application can also be accessed through the Apply App Store's browser based storefronts. This showcasing application allows developers to take a more direct hand in the advertising and visibility of their products in order to reach a more broad audience. The big draw for both sides is that Odobo Play offers players the chance to try new games they may not have otherwise ever known about while creators are able to license use of the app in order to increase their revenue.
Right from the start there are some well and lesser known studios already on board with reasonable rates set to attract more partners in the future, further increasing the selection options for players. Those already on board include the Gibraltar based Trimark Gaming, a creator of many light hearted and easy to play instant win games, and Applejack Gaming which both a video slot machine and two variations on Baccarat.
More connections made for a broader choice of slot and table casino games are Probability Jones and Fantasy Factory, both coming out of the United Kingdom. The list of great developers involved in this app's successful launch goes on and, not to be left out, Odobo's own Wild Game Reserve is also features with choices of video slot machines and Grand Blackjack.
For players that like to try before they buy, the application offers the chance to sample games that are featured without making an investment, giving them a little taste of what the games have to offer. For those that like to jump straight in and start throwing their bank roll around in for a shot at hitting a jackpot winning spin, hand of cards, or roll of the dice can do so as well.
At the moment, the only real money players that are able to participate are those from the approved region, the United Kingdom, but expansion to other gambling areas is all but guaranteed as the application grows, making it a must-have for mobile gamblers everywhere.